Try this recipe for a refreshing twist on salsa using watermelon, the quintessential summer fruit.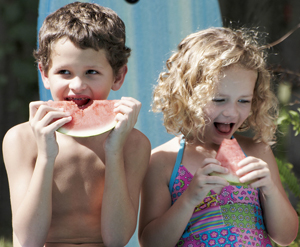 3 cups de-seeded and chopped watermelon
½ cup diced green peppers
2 tablespoons lime juice
1 tablespoon diced cilantro
1 tablespoon diced green onion
1-2 tablespoons diced jalapeño peppers
Combine ingredients; mix well and cover. Refrigerate one hour or more. Makes three cups. Serve with chips or as a garnish for chicken and fish.
Recipe courtesy of www.watermelon.org
Also see: More watermelon recipes
How to Select and Store the Perfect Watermelon
A Parent's Guide to Summer in the NYC Area