Love watermelon? Check out these tasty recipes featuring this surprisingly versatile summer fruit (kid tested, parent approved!), courtesy of the National Watermelon Promotion Board.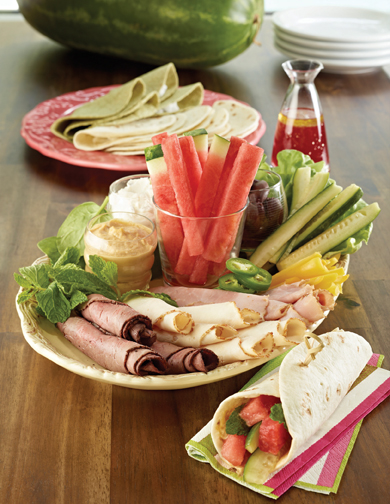 Watermelon Sandwich Wraps
Add watermelon to your sandwich! These 10 recipes will have you wrapping up the juicy fruit with ingredients like chicken, feta cheese, guacamole, and a host of other tasty combinations.

Perfect for a hot summer night, this recipe combines shrimp and Asian flavors with seedless watermelon for a refreshing twist on dinner.
Use watermelon in place of tomatoes to create a spicy and sweet salsa for your next backyard barbecue.

This "recipe" is more of a step-by-step guide to cutting your perfectly ripe watermelon into fun donut shapes and finishing them off with sweet toppings. It's an easy, reduced-guilt dessert idea that might just become your summer party go-to.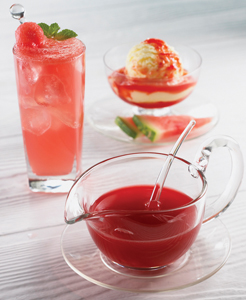 Watermelon Syrup
Whip up this sweet topping to serve over vanilla ice cream, mix into sparkling water to make watermelon "soda," or use it in a creative cocktail for the adults in your brood.

Breakfast Lasagna—with (yes!) Watermelon
Try this breakfast lasagna made with watermelon, corn flakes, and other fruits for a healthy, hydrating meal.
Whether for a birthday or a fun summer soiree, these mini watermelon cupcakes make a healthful, hydrating, and delicious snack.
BBQ Recipes Starring Watermelon
Put a refreshing twist on your next barbeque with these recipes starring watermelon, including watermelon BBQ sauce, watermelon salsa, and watermelon rind coleslaw.
Plus:
How to Make a Mermaid Tale Centerpiece from Watermelon

How to Select and Store the Perfect Watermelon