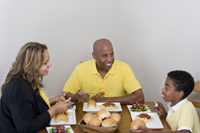 During these challenging economic times it is difficult to provide healthy meals that are cost effective and easy to prepare for your family. But
budgeting at the supermarket
doesn't mean your family has to suffer when it comes to proper nutrition. There are many delicious, easy ways to get a healthy bang for your buck.
   Start by making quick and easy home cooked meals instead of opting for fast food. Cook dry beans and add them to casseroles, stews, and salads. Beans are inexpensive, easy to prepare and loaded with nutrients. Beef, poultry and fish are more costly then vegetables and grains.  So, when putting together meals don't serve your meat, veggies and grains separately – stretch your  dollar by trying the stir-fry method. Use smaller amounts of meat, chicken or fish and enhance the meal by adding lots of veggies and some brown rice or beans, giving a variety of nutrients for a big cash savings.  By choosing frozen veggies, you will reduce prep time, and it can be cost effective as well when purchased in bulk.  There is also an added bonus when working with frozen vegetables since they can be easily sealed and refrozen, helping to eliminate waste.
   To stretch servings try mixing ground beef, chicken, or turkey with whole oats, brown rice, texturized vegetable protein, or bread crumbs to extend the protein with some added fiber.
   For a sweet treat, make a nourishing snack for the kids by combining dried fruit, cereal and nuts. This is inexpensive and packed with energy, fiber and vitamins. Just store in individual mini sandwich bags for a ready-to-go snack for school.
   As for beverages, don't waste your money on bottled water. Instead, pick up a good water filter and keep cold filtered water in the refrigerator at all times.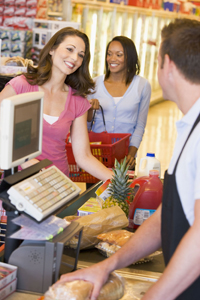 Start Saving Today
   Any little change you can incorporate into your meal planning can help you save money. So, get started today by considering the following tips.
   • Use a Crock Pot:  This is a great timesaver and an inexpensive way to put together delicious, nutritious meals.
    • Incorporate leftovers into other dishes: Dice leftover chicken and add to salads, soups and casseroles.  Mix leftover grilled or cooked veggies with whole-grain pasta or brown rice, and toss with some fat-free salad dressing.  Slice up meatloaf for a hearty open-faced sandwich. 
    • Buy locally: Food will be fresher, and you will be supporting your local growers.  An added bonus is that the quality is often better and there are valuable savings found at the farm stands.