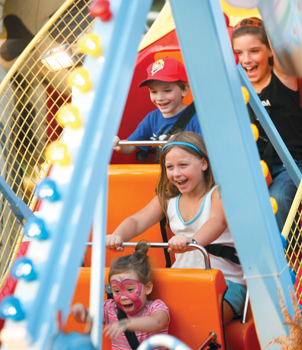 Join tens of thousands of families from the tri-state area for the 17th Annual Long Island Fall Festival presented by the Huntington Township Chamber of Commerce and the Town of Huntington. The largest of its kind in the northeast, the Festival has become the premier event for Huntington's civic-minded businesses, cultural institutions, service organizations, restaurants, pubs, and retailers to come together and celebrate with the community.
"We are really looking forward to this year's festivities and the celebration of the festival's 17th year. We have added some unique and exciting entertainment and attractions that are sure to entertain everyone," festival chairman Larry Kushnick said.
For three days, the 25 acres of Heckscher Park will be filled with hundreds of attractions, global cuisine, a beer and wine tent, a world-class carnival with rides for all ages, over 300 vendors, and live performances. The Travel Channel will have a special presentation, and hosts Andrew Zimmern of Bizarre Foods with Andrew Zimmern and Samantha Brown of Samantha Brown's Great Weekends will be on hand to speak with fans. Kids can make their own projects at Home Depot's Kiddie Workshop and play at the video gaming area. Adults can de-stress and get pampered with massages and manicures. On Monday, celebrate the holiday with local bands and organizations during the Columbus Day Parade, followed by a meatball eating contest. There will also be a ton of raffles and giveaways. Attendees are asked to bring a non-perishable food item to be donated to the local food pantries.
Festival Info
Where: Heckscher Park, Main Street, Huntington
When: October 8, 6-10pm; October 9-10, 11am-10pm
(street vendors close at 6pm); October 11, 11am-5pm.
How much: FREE
For more info: 631-423-6100 or www.lifallfestival.com
Also see our roundup of the best Family Halloween Events on Long Island
Find even more family activities in our Online Calendar