Related: seal cruise, harbor seals, long island, ny, 2011, hempstead bay, captain lou fleet, riverhead foundation, freeport, new york, family, kids, outing, activities,




Find the top things to do this month with kids in the NYC area in our Calendar of Events



Seal Sightings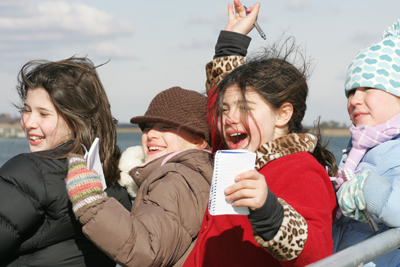 Brave the cold this winter and climb aboard the Captain Lou Fleet for a Seal Cruise. Sponsored by the Riverhead Foundation for Marine Research and Preservation, these chilly cruises allow Long Islanders to get up close with the winter wildlife population in the Hempstead Bay. You'll discover the seal population that migrates to the bay in search of food during Long Island's coldest months. The most frequent sight is harbor seals, the most populous seal species in our area, which can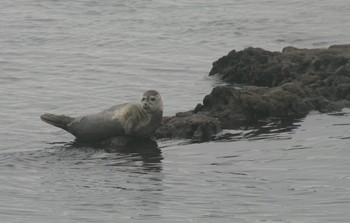 grow up to six feet in length and weigh as much as 250 pounds. Sailors on the Captain Lou may also catch a glimpse of some larger gray seals, which live in the North Atlantic, and even some Arctic species like harp, hooded, and ringed seals. A naturalist will be on board to discuss the biology and behavior of seals and other marine life encountered during the cruise, as well as to introduce passengers to a variety of natural artifacts from the bay. The boat's cabin is heated, but sailors can venture onto its deck to peer over the rails at any wildlife that appears (just be sure to dress warmly!). Passengers are also encouraged to bring binoculars to get a closer look.
The Riverhead Foundation is a non-profit organization with a mission to preserve and protect our marine environment through education, rehabilitation, and research. It is dedicated to the rescue, rehabilitation, and release of seals, sea turtles, whales, dolphins, and porpoises, all of which are protected under New York State and federal law. The foundation, which is located within the Atlantis Marine World aquarium, operates the New York State Marine Mammal and Sea Turtle Rescue Program, and proceeds from the Seal Cruises benefit this program.
Details
What: Seal Cruises 2011
When: Select weekends through April 17; see full schedule online. Boards at 12:30pm; departs at 1pm. Reservations required.
Where: Captain Lou Fleet departs from 28A Woodcleft Avenue, Freeport, NY
How much: $24; $21 seniors; $19 children 12 and under; FREE for carry-on children
For more information: 631-369-9840 or www.riverheadfoundation.org


Also see: Our Online Calendar, for even more family activities on Long Island and throughout the New York metro area
Find the top things to do this month with kids in the NYC area in our Calendar of Events


---
Get Your FREE Indoor Activity eGuide!
---
More Regional Highlights Articles
Top 11 Things to Do with Kids in Westchester this November
Best Halloween Events for Kids on Long Island, Nassau County
Best Halloween Events for Kids in Manhattan
Best Halloween Events for Kids in Queens
Best Halloween Events for Kids in Brooklyn

Be a good fellow parent and share this with a friend who would be interested
Local Regional Highlights Sponsors
See Our Regional Highlights Directory