The Fort Montgomery State Historic Site in Orange County, a short trip from nearly anywhere in the New York City area, offers visitors a glimpse into the Revolutionary War battle over the Hudson Highlands. Read on for the site's family-friendly attractions.

Of all the cultural goldmines around New York City, the Hudson River area may be the richest in history. The Fort Montgomery State Historic Site in Orange County is a tribute to the Revolutionary War fortress built in 1776 by American soldiers to guard the entrance to the Hudson Highlands. On October 6, 1777, a troop of British soldiers, outnumbering the Continental forces three to one, destroyed the fort along with the Americans' neighboring stronghold, Fort Clinton. Today, the site is a National Historic Landmark offering visitors a glimpse into the battle that raged there more than 200 years ago.
Annual Favorites
An Independence Day celebration around the first weekend of July includes costumed interpreters and demonstrations, artillery and musket firings, and period music. Activities continue in the fall with Twin Forts Day on the first Saturday in October, a popular event that centers around a reenactment of the fort's climactic 1777 battle. Near the end of October, visitors can tour the grounds at night and revel in dramatic reenactments of the fort's dark history by lantern light.
Year-Round Extras
Several easy hiking trails stem from the grounds: Take the Twin Forts Trail toward the nearby Bear Mountain Trailside Museums and Zoo (the former site of Fort Clinton) or meander down the Popolopen Trail toward Torne Mountain.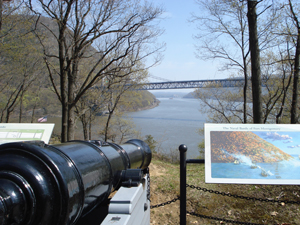 A stroll around the grounds, overlooking the Hudson, features a self-guided tour of the fort's remains; a quick trip around could take about 20 minutes, while a more leisurely pace will afford you about an hour among the remnants.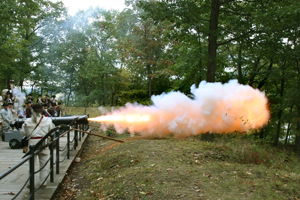 On late spring and summer weekends, the fort hosts living history demonstrations complete with costumed interpreters and musket and cannon firings (featuring the fort's pride and joy, a 32-pound cannon named George).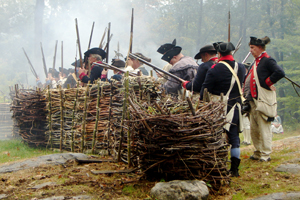 Battle re-enactments are a family favorite.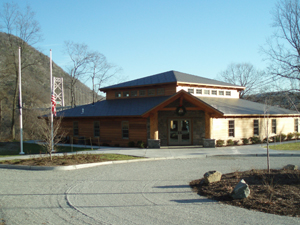 Step inside the Visitors' Center for a museum full of period artifacts and weapons, large-scale models of the fort and the attack, highly detailed mannequins frozen in poses of battle, and an action-packed 15-minute movie that depicts the construction of the fort, the attack, and the aftermath.
Details
Address: 690 Route 9W, Fort Montgomery
Distance: About an hour drive from the George Washington Bridge. Approximately 30 miles (40-minute drive) from White Plains, New York
Hours: The museum and grounds are open Wednesday through Sunday, 9am-5pm
Price: FREE
For more info: 845-446-2134 or www.palisadesparksconservancy.org/historic/18