There are plenty of options in children's theater this spring in New York, including classic fairy tales and some awesome rookie productions. See what shows are playing near you.
While the spring collection of Broadway shows (of the adult variety!) won't be ready to hit their stride until March and April, there's good news for moms and dads: There's a new wave of kid-friendly productions that have picked February as the month to shine. And so, with a colorful splash of late-winter fanfare and two thumbs-up for creativity, I give you options galore to share with the young theater lovers populating your world - especially those who have already exhausted the current gamut of "been-there-seen-that" kid shows!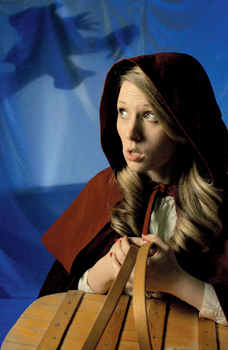 Little Red Riding Hood
Just when you thought Ms. Riding Hood was as predictable as candy hearts for Valentine's Day, along comes a clever take on a kid-lit standard. In this sassy new version, you've got not one but two wolves - who actually think they have a villainous chance to outwit the supersavvy Little Red en route to Granny's. Not a chance! A contemporary tip of the hat to vintage Warner Brothers and Tex Avery cartoons, this totally quirky show, featuring the wolf duet "The Red Riding Hood Blues," is based on the Brothers Grimm story and is suitable for children and adults of all ages.
Currently running through February 27.
Tickets are $20 with a $50 Premium Seat option that includes front row seats, a pre-show meet and greet with the actors, and cast-signed programs. (The Premium Seat tickets must be purchased by the Wednesday prior to the performance.)
Manhattan Children's Theatre, 52 White Street, Tribeca. 212-352-3101. www.theatremania.com.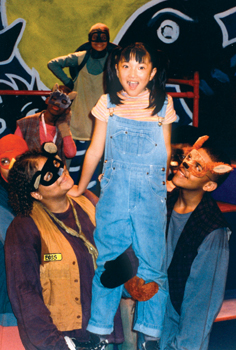 Rabbit Sense
Launching award-winning TADA! Youth Theater's new season is a full-length musical that offers kids of all ages an updated (and upended!) opportunity to experience the cunning coterie of characters (tweaked for the 21st century) bearing the folklore stamp of Uncle Remus. In this case, the story revolves around a bullied kid who's saved by familiar fable friends including Brer Rabbit, Brer Bear, Brer Fox, Brer Turtle, and Sis Wolf. Featuring a book by Davidson Lloyd, music by John Kroner, lyrics by Gary Gardner, and fun for days courtesy of the all-kid cast.
Currently running through February 20.
Tickets are $25; $15 children (NOTE: the last three rows are available for: $20; $8 children, on a first come, first serve basis.)
TADA! Theater, 15 West 28th Street, 2nd floor. 212-252-1619, x128. www.tadatheater.com.
Velma Gratch & the Way Cool Butterfly
Vital Theatre, the staggeringly prolific company whose children's arm turned the books Pinkalicious and Angelina Ballerina into hit kid musicals, is back in the spotlight with its newest adaptation, this time with Alan Madison's book Velma Gratch and the Way Cool Butterfly. With book and lyrics by Michelle Elliott and music and lyrics by Danny Larson, the show begins with a totally psyched Velma looking forward to starting the first grade. Finding herself overshadowed by her big sisters, she longs for a way to stand out and discovers she love, love, loves butterflies! Bonding with one butterfly in particular, Velma goes through a delightful metamorphosis of her own - one that will resonate with youngsters wishing to find their place in the world.
Currently running through February 27.
60 minutes; ages 3 to 9; tickets $25 with premium seats for $30.
The Vital Theatre, 2162 Broadway at 76th Street. 212-579-0528. www.vitaltheatre.org.

The Little Mermaid
Since the departure of Disney's Little Mermaid from Broadway, many of us have felt deprived of one of Hans Christian Andersen's most adored heroines. Happily, she's back in an irresistibly charming musical including the number "Misunderstood." And, of course, the Little Mermaid's dad, King Neptune, has his own moment in the spotlight when he reflects on the innate perils of parenthood in the song "Loving and Letting Go."
Runs February 2 to May 22.
60 minutes; recommended for ages 3 and up; tickets are $40 for first three rows; $35 for second three rows; and $25 for all other seats. Ticket price includes preshow arts workshop featuring lessons in movement and music from the show and the opportunity to create a sea creature that glows in the dark when placed onstage.
Players Theatre, 115 MacDougal Street. 212-352-3101. www.theplayerstheatre.com.
Circus INcognitus
If you haven't yet experienced New York's family phenom theater known as the New Victory, shame on you! But the good news is you can do so in February in a big and fun-filled way thanks to the arrival of pedigreed circus star Jamie Adkins who, as fans will attest, requires but a bit slack wire, a passion for slapstick, a tall and teetering ladder or two, and a magical piece of luggage holding endless possibilities, to razzle, dazzle, and tickle the funny bones of youngsters and their adult companions. "I've performed with large ensembles in large productions," says Adkins, "but with my solo work, which is on a much smaller scale and more intimate, I try to be as subtle as possible, and personable, to reach out and make every audience member's experience a personal one."
Runs February 11-27.
60 minutes; all ages. Tickets are $38 (orchestra and front mezzanine); $28 (rear mezzanine); and $14 (balcony) for nonmembers. Theatergoers who buy tickets for three or more New Vic shows qualify for free membership benefits, including reduced ticket prices of $25 (orchestra and front mezzanine); $18 (mezzanine); and $9 (balcony).
New Victory Theater, 209 West 42nd Street. 646-223-3010. www.newvictory.org.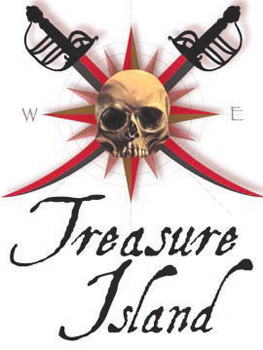 Treasure Island
Robert Lewis Stevenson's swashbuckling tale about young Jim Hawkins and the duplicitous Long John Silver and his band of pirates has been adapted for the stage by Vernon Morris and B.H. Barry. Barry, who also directed this "spine-tingling adventure about treachery, treasure, and a young man's rite of passage," has added another layer of guaranteed excitement to the production by casting Tony-nominee Tom Hewitt (The Rocky Horror Show) as the peg-legged Silver. Definitely an edge-of-your-seat theatrical outing - with plenty of arrgghhs!
Runs February 15 to March 26.
Two hours with intermission; ages eight and up; tickets are $20-$45, with the special Pirates Promise that "the first row of action-packed seats will be sold for only $20!"
Brooklyn's Irondale Center, 85 South Oxford Street. 866-811-4111. www.irondale.org.
The Emperor's New Clothes
Hans Christian Anderson would have loved this reimagining of his tale of royal vanity run amok from the Phoenix Theatre Ensemble's "Grimms-N-Giggles" collection. In a era boasting TV shows like "Project Runway" and "The Fashion Show," this cautionary musical tale offers the perfect antidote to over-the-top haberdashery. The monarch at the center of this play posing the question, "Will substance rule over style?," clearly has much to learn, since he starts out worrying about such petty things as, "Does this crown clash?" "Can I wear a white robe after Labor Day?" and "Does this scepter go with my jewels?"
Runs February 21 to March 12.
45 minutes; all ages. "Pay what you can" or reserved tickets for $9
The Wild Project, 195 East 3rd Street. 212-352-3101. www.phoenixtheatreensemble.org.
Also see: Our Online Calendar, for even more family shows and activities in the New York metro area