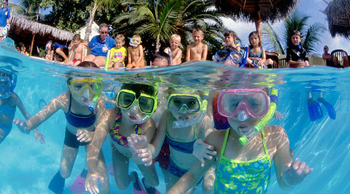 With a year-round temperature averaging around 82 degrees Fahrenheit and 36 beaches with clear and sparkling waters for locals and tourists to enjoy, Curacao is a Dutch gem located in the southern Caribbean. Only 40 miles from the coast of Venezuela, Curacao, part of the Netherlands Antilles, is a melting pot of more than 50 cultures. Renowned for its coral reefs and deep sea diving, the 171-square-mile island is located safely outside the Caribbean hurrica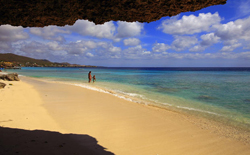 ne belt.
Curacao's white sand beaches may be enough to satisfy many families all day, but this Dutch island can provide lots of other fun activities as well. Whether you want to explore nature on land or sea, or take in colorful architecture and some history, Curacao has it all. In the island nation's native tongue of Papiamento, Bon Bini, or Welcome to Curacao!
Nature By Land and Sea
Christoffel Park, located in Westpunt in the northwestern part of the island, with its 1860 hectares of wooded hills, is the largest national park in Curacao. Local birds, including the palabrua (a rare native barn owl), flora and fauna and even the endangered Curacao white-tailed deer (there are only 250 left in the world) make their home in Christoffel Park. With eight well-marked hiking trails, families can enjoy an easy stroll, while more avid and adventurous hikers can climb Mont Christoffel. Special activities such as deer watching, animal presentations and cave excursions are available. Open to the public Monday through Saturday from 8am-4pm and Sunday from 6am-3pm, the park offers guided trips for $15 (standard admission is $9). Horseback riding, mountain bikes, ATV and jeep tours are also available for an additional price. Visit the Caribbean Research & Management of Biodiversity's website, www.carmabi.org, for more information.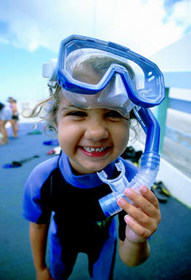 Although there is much to see on land, the waters surrounding Curacao are known as some of the best dive locations in world and feature spectacular marine life. If your family is looking for more than simple snorkeling at the hotel beach, head to the SeaAquarium to explore the "window into the Caribbean Sea." Featuring more than 40 different open-water-system aquaria, the entire complex is home to hundreds of creatures that make the Curacaoan waters home. Various animal encounter programs allow guests to dive into the contained lagoons and canals. You can touch a goliath grouper named Herby, feed lemon and nurse sharks through a glass panel, interact with stingrays and even witness the beauty of large sea turtles. Families with young children should note that youngsters under the age of 12 cannot participate in these excursions. However, the aquarium is still bursting with activities for children. They can visit the Underwater Observatory Boat to see feeding demonstrations or even to watch older family members on their dive. Upon arrival, pick up a schedule of events to learn what the theme of the day is and when the interactive shows and learning programs will take place. Favorites include the sea lion and dolphin shows.
Culture and History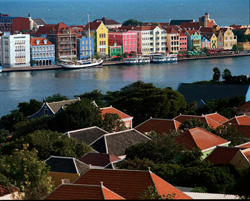 A typical Caribbean port town, Curacao's capital, Willemstad, was named a World Heritage site by UNESCO in 1997. Its streets and plazas feature colorful and impressive architecture reminiscent of 17th century Dutch colonial buildings. Local legend claims that an early governor declared that no house could be painted white as the reflection of the sun hurt his eyes. Thus all buildings, each marked with the date of construction, are painted vibrant hues of bright blue, orange, yellow, pink, green and others. Later it was discovered that this governor, responsible for Curacao's colorful streets, owned stock in a local paint company.
Divided into two sections-Punda, the original city on the east, and Otrobanda, meaning "The Other Side," on the west, the city is separated by the St. Anna Bay. The two districts can be crossed by the Queen Emma Pontoon Bridge or by ferry. Both sides offer winding streets to explore, casual plaza cafés to enjoy and excellent duty-free shopping. Kids will love the colorful vendors and markets selling fresh produce and meats. Plus, along the river, there are floating markets where lively vendors from South America come to sell their imported goods.
For some history, visit the Mikve Israel Synagogue. Built in 1651, it is the oldest synagogue in the entire western hemisphere. Fort Amsterdam, built in 1635 to protect the island, is now the government headquarters for all of Netherlands Antilles. The governors, the ministers and several other officials reside and work there. As a port town, ships and trade have been crucial to the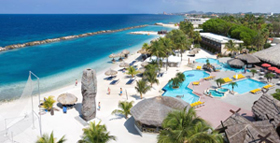 development of Willemstad and the entire island of Curacao. To learn more about the nautical history of the island, visit the Maritime Museum.
The resorts on the island provide lodgings, food and entertainment for all ages. SuperClubs Breezes Curacao, located within walking distance from the SeaAquarium, is kid-friendly and located on a beautiful and calm beach. Its rates are reasonable and the meal plan is all-inclusive. For more information on the property, visit www.breezes.com.
To learn more about other attractions on the island of Curacao and to start planning your trip, visit www.curacao.com.