Travel site Momaboard asks a new dad and transplanted New Yorker Saurav Das to tell us what it's like raising a new baby in Hong Kong. If you're looking to take a transcontinental trip soon, check out the following tips for where to stay as a family in Hong Kong, where to eat, places to visit, and much more.
Saurav and Caroline Das moved to Hong Kong from bustling NYC a couple of years ago and were joined by their beautiful baby girl soon after. Caroline being a native, and Saurav an import, this Dadaboard feature from Momaboard.com brings you the best of the local and tourism scene in exciting Hong Kong.
Saurav says: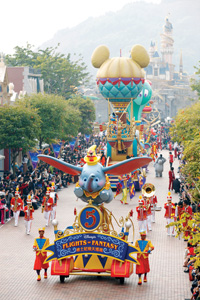 Hong Kong is one of those "world" cities with which you enjoy a love-hate relationship. It has pretty much all that you want -- or that you are willing to pay for -- and provides the infrastructure to do what you need, so long as you don't mind doing it elbow-to-elbow with everyone else.
Yes, the small confined places are a culture shock and pet-peeve even for those who move here from New York or Tokyo (like us). It's also a city of multiple worlds -- especially with the paradoxically large, but yet concentrated expat "gweilo" population juxtaposed alongside the locals. There is much to see and do, and here are some tips to enjoy the best that Hong Kong has to offer, while navigating the chaos that is everyday life here.
Where to Stay
Hotels in Central, Admiralty, or in TST (Kowloon) overlooking the Harbor. Personal favorites are the flagship Mandarin Oriental Hong Kong, and the more recently opened W in TST.


Public Transportation
The Subway (MTR) connects the northern part of Hong Kong Island quite adequately, and most parts of Kowloon effectively. Cabs are easy enough to hail, though rush hour tends to be a challenge. Most cab drivers are intent on breaking their internal world-records for getting from point to point, so take the bare minimum precaution of buckling yourself up, in addition to the little one(s). Stay away from the mini-buses, which are extremely accident-prone. Car seats are generally not available on public transportation.
Stroller vs. Baby Carrier
Unless you are in a shopping mall (which are a dime a dozen) or on the harbor-front in HK or Tsim Sha Tsui (TST), using a stroller can be a headache because of the undulated topography on HK Island, especially in Central and the Mid-levels. Depending on the size of your baby, this may not be an option, but in general I would recommend using a baby carrier rather than a stroller to the largest extent possible.
Restaurants
Since space is at a premium, lots of restaurants will likely not have room for a stroller at the table. But this doesn't mean they don't have high chairs. Call ahead and make sure you re
serve one. Restaurants in hotels and the higher-end ones tend to be more spacious and appropriate for kids (but there are a few that don't allow children under 12). The smaller, local dives or Dai Pai Dongs (DPDs) for noodle-soup, BBQ pork-rice, etc. are likely not suitable in the company of a child anyway. Once your baby can sit up, I would highly recommend the Totseat -- it's the most wonderful invention since sliced bread (and the baby carrier), and has proved beneficial to us all around the world.
Places to Visit
The Central District, Tsim Sha Tsui (Kowloon), The Peak, Ngong Ping 360 to Big Buddha on Lantau Island, Tai O village, Stanley Market, Ocean Park, Hong Kong Disneyland, a trip on Star Ferry. For a day trip, venture out to nearby Macau, which is slowly gaining its reputation as the playground of the East.


Baby Shopping and Emergency Needs
You can pretty much find all the day-to-day necessities in HK for your baby, and there are enough pharmacy and convenience stores for emergency needs. This is one of the benefits of being such a compact city.
In summary, like most things in life, a lot of it depends on your attitude. If you are determined to make sure your child is active, interacts with a diverse set of people, and experiences different things, then Hong Kong, like other "world" cities, is as child-friendly or unfriendly as you allow it to be.
About Momaboard
Founder Kaamna Bhojwani-Dhawan scoured the net to seek out information on diapers in Japan, driving routes in New Zealand, and child-friendly accommodations in Madrid and found...nothing. Enter Momaboard. Kaamna started writing the blog Momaboard in 2009 to share her experiences with other parents. In January 2011, it was expanded into the website and social network it is now, so like-minded parents could connect. Momaboard today offers international city guides to places from New Zealand to New Delhi, in addition to practical resources such as The Directory of Airline Policies for Children, and general travel tips such as Baby-Proofing Your Hotel Room. Find Momaboard at www.momaboard.com, at www.facebook.com/momaboard and @momaboard (on Twitter).
Kaamna Bhojwani-Dhawan is the founder and CEO of Momaboard.com, a global community of traveling parents. Her son Karam went on his first flight at four months. By the time he was a year old he had been to six countries, and by the age of two, 12 countries. Kaamna firmly believes that it's never too early to travel with your children, and that early exposure to the sights and sounds of the world creates enlightened, aware adults, something we need a lot more of.