Indoor water parks are a perfect family vacation option during the cold winter months. We've rounded up six awesome indoor water parks that are within easy traveling distance of the New York metro area.
Normally the appeal of slipping-and-sliding water park fun is at its peak in the warmer months. But to the joy of children everywhere, in 1994 the Polynesian Resort Hotel & Suites in the Wisconsin Dells opened its doors as the first indoor water park in the world. Since that time, the tradition is still growing strong; according to the World Waterpark Association's latest study, the indoor water park segment is the fastest growing part of the industry and there is no reason why your family shouldn't jump on board and enjoy the fun. While it may be chilly outside, there are plenty of parks in the Northeast that are just waiting to be explored by a water-loving clan, so slide on in no matter how cold it is!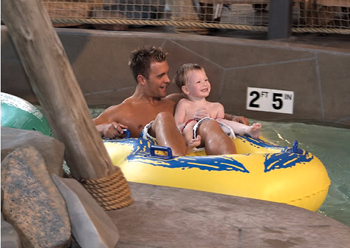 Waterbury, Connecticut
CoCo Key, a prominent chain of water parks, has locations from Florida to Illinois. And while there are plenty within driving distance of New York City in Massachusetts and South Jersey, the Coco Key located in the Holiday Inn in Waterbury, Connecticut, is a favorite for many, featuring 55,000 square feet of spraying water and slides. The Coral Reef Cavern is an exciting activity pool with water basketball, lily pads, and other sports. The interactive Parrot's Perch has water cannons, slides, and a huge bucket that topples over every few minutes with hundreds of gallons of water. Other family gems include the Coconut Grove Adventure River and the slides, Shark Slam, Barracuda Blast, and Pelican Plunge.
Poconos, Pennsylvania
Part of another large chain of North American Indoor Waterpark resorts, the Great Wolf Lodge in the Poconos is the brand's closest location to New York City. Just like its sister properties scattered across the States, there are tons of wet thrills to be had here. Boasting up to 380,000 gallons of water, the park has 11 huge slides, six pools, and even a 12-floor fort for the family to explore. Crooked Creek is an endless lazy river for those looking to relax. For others looking for more excitement, Coyote Cannon is a 436-foot enclosed slide that makes your wet journey dark! Hydro Plunge is another favorite, and with its 52-foot vertical drop it's the hybrid of a waterslide and rollercoaster in one. The Whopping Hallow mini slide Cub Paw Pool will keep kiddies enticed all day long.
Sahara Sam's Oasis Indoor Water Park
West Berlin, New Jersey
Even when it's snowing outside, it is always a balmy 84 degrees inside Sahara Sam's in West Berlin. Eleven water rides make Sam's 58,000 square feet chock-full of fun, and kids will be pleased to meet the park's camel mascot, Sam. Lizard Lagoon is the hangout for the little ones, while teens will love Sam's Cyclone Flow Rider, the only ride of its kind in New Jersey. Snake Eyes features two eight-foot wide slide barrels that offer up twists, turns, and thrills. Mount Kilimanjaro is a family rafting ride that is nearly 50 feet above the ground and 400 feet long.
Rocking Horse Ranch Resort's Big Splash Indoor Water Park
Highland, New York
While the family owned and operated Rocking Horse Ranch Resort embraces the winter season outdoors with activities like skiing/snowboarding, snow tubing, ice skating, and horse drawn sleigh rides, it also provides a summer-inspired retreat indoors. The Big Splash Indoor Water Park boasts a balmy 85-degree temp all year round and a variety of activities for water lovers, including water slides like the 250-foot-long Gold Rush Flume. For the competitive type, there's the Dynamite Alley Water Walk Challenge, where children and adults attempt to pull themselves over a net on tubes without falling off. And for little ones there's the new Fort Geyser Aqua Station, a Western-themed wading pool area that houses slides, dumping buckets, and interactive fountains and geysers. Located about 90 minutes from Manhattan, Rocking Horse Ranch Resort offers all-inclusive packages with room accommodations, all-you-can-eat meals, and unlimited access to the water park and other resort activities.
Six Flags Great Escape Lodge & Indoor Waterpark
Queensbury, New York
Featuring more than 38,000 square feet, White Water Bay is the indoor water park inside the Six Flags Great Escape Lodge located near Lake George. Families who spend the day here can surf the waves on the Boogie Bear Surf or climb the Tall Timber Treehouse that has more than 160 interactive water features for splashing about. A favorite for all family members is Avalanche, a raft ride for the entire group. The Tip-A-Kanu-Beach is a shallow activity pool area designed for the little ones.
Lake Harmony, Pennsylvania
Spilt Rock, a 1,200-acre property on Lake Harmony, features the relatively new 53,000-square-foot, $19 million indoor water park appropriately named H2Oooohh. Rainforest-themed, the park has lots of enticing features, including a Flow Rider, a simulated surfing experience called the Komodo Dragon. Hurricane Cove, H2Oooohh's wave pool, satisfies body surfers all day with breaking waves that are up to six feet high. In total darkness, Amazon Blast is a family tube ride that brings twists and turns in a milder fashion than Viper/Piranha, two colorful single slides for the thrill seeker in the family. For those who crave a more gentle water park experience, the Jungle Falls, a three-story tree house play area, drenches visitors with water and fun. Firing cannons, dumping water buckets, spouting geysers, and other wet water toys can be found on all levels of the tree house.
Also see: Family Travel: Warm Weather Vacations
Family Travel: Skiing at Smugglers' Notch in Vermont