The Beaches of South Walton, along Florida's Panhandle, comprise 15 diverse beach communities that are perfect for a family beach vacation.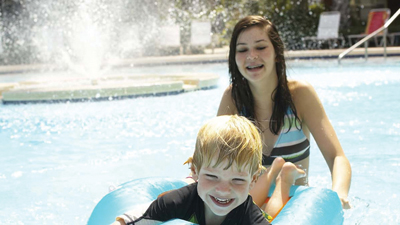 Florida's Panhandle, the state's northwest coast along the Gulf of Mexico, features some of the most picturesque beaches in the world, combining soft, ivory sand with crystal clear waters and warm gentle surf. The region comprises about 11,000 square miles and stretches across the north part of the state to Tallahassee. One major section of the Panhandle features The Beaches of South Walton, 15 diverse beach communities that are perfect for a family beach vacation.
Stretching along 25 miles of Scenic Highway 30-A, these beaches include Destin, Grayton Beach, Fort Walton Beach, Seaside, and more. The area is well-known as the birthplace of YOLO Boarding and is famous for the 15 rare coastal dune lakes and the Choctawhatchee Bay that give the region even more waterfront property.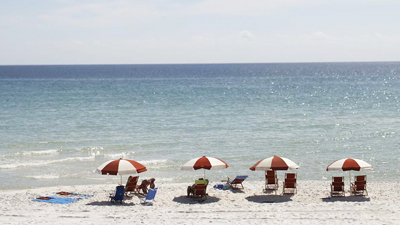 If your family seeks something low key, the laidback Grayton Beach, surrounded by a mix of quaint historic cottages next to modern mini-mansions, is the oldest community along Scenic 30-A and may be the beach destination for you. Strolling along the town's 100-year-old roads, you get the sense that not too much has changed in this eclectic beach borough. Be sure to stop in the infamous Red Bar, a local favorite that combines hearty meals with funky live music.
The entire state park consists of 2,200 acres of untouched coastal vegetation. The Grayton Beach hiking trail is another area worth exploring. With its scenic paths and circling sand dunes along the coastal dune lake, it is the ideal location for a family of explorers who prefer the outdoors. Take a guided excursion through the dune system on foot or by kayak with Walco Eco Tours and guide/owner Murray Balkcom. The company offers a two-hour tour of Western Lake; rates are half price for children under 10 years of age.
Looking for a touch of class and down-home hospitality? For generations, the Destin area's sun, powdery white sand, and emerald Gulf of Mexico waters have been enjoyed by Southern families who crowd its busy hotels each summer. The 2,400-acre resort of Sandestin farther west on Florida's Gulf Coast is different- it's renowned throughout the South for its first-class service, tennis, golf, children's activities, shops, and fine restaurants. With more than 1,450 accommodations situated within 30 distinct neighborhoods, this comprehensive resort offers a small town, genteel ambience while enthusiastically welcoming families.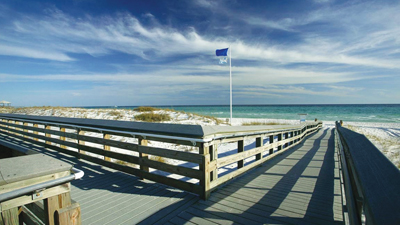 An 80-acre beach community designed and developed around the concept and standards of New Urbanism, Seaside is home to a bustling main street. The layout of streets is pedestrian- and
bicycle-friendly, and the cottages, each built behind a white picket fence, have an architectural style that combines West Indian and Caribbean flavors and colors with English charm. The idea behind Seaside, when it was first constructed more than 30 years ago, was to create a "new town with old ways." Everything here is modern: There are yoga studios, art galleries, bookstores, trendy sushi restaurants and wine bars, and of course a stunning beach just feet away. Still, the charm of a low-speed existence runs underneath all of that.
Rent a cottage with the Seaside Cottage Rental Agency and discover whether you pass the "lemonade test." Passing means you can happily sit on your porch with a glass of lemonade, have a book in your hand, or talk to your neighbor and just relax - and be content with the simplicity of life's joys. Designed so the visitor cannot stress about anything, Seaside is a place to enjoy the ocean air, take a bike ride, and eat delicious seafood with your family.
Trip Planning for a Panhandle Vacation
While these beach communities are some of the highlights of the Beaches of South Walton, there are more to choose from, each with its own flair and personality. To learn about each neighborhood, visit the local tourism office's site, www.beachesofsouthwalton.com.
For family travelers coming to the region via airplane, the addition of the new Panama City Beach airport in May, 2010 now makes the destination even more accessible. Of course, families who find South Walton Airport to be a better option can still opt to fly into VPS. Note, that there are no direct flights from New York City, so families will need to connect. For transport to and from the airport consider arranging for a pick-up from Seacoast Transportation; the company has private cars and serves all of 30-A (888-822-6278).
Jillian Ryan is a freelance travel writer and social media consultant living in Brooklyn. She was pleasantly surprised to see the Gulf of Mexico flourishing during her first visit to The Beaches of South Walton - where she learned that the seafood is fantastic, the people are warm, and the area is relaxing yet still boasts a flair for sports and adventure.
Also see: More warm-weather family vacation destinations
The Family Side of New Orleans