Going to Vermont in winter is a no-brainer – lots of snow and skiing options. Summer also has its charms, with plenty of bike paths and lakes. In fall, you can't beat the foliage. Spring is often dismissed, but a recent spring ski trip to Stowe revealed why this area is truly a four-season destination.
Spring skiing has its downsides, of course – not every lift is open, some trails have closed – but don't discount the value of skiing in short sleeves. In late March, my daughter and I witnessed skiers in shorts and tank tops! And there were no lift lines, so it was a bit like having a private mountain.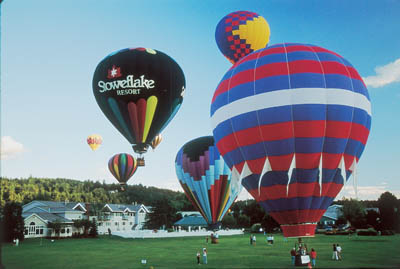 In fact, Stowe Mountain Resort has two mountains: Spruce Peak, where the children's learning programs are based, and Mount Mansfield, with terrain ranging from beginner to advanced. Once all the snow melts, there is an alpine slide, rock climbing wall and bungee jumping; the gondola operates year round so you can take a ride and hike in the mountains.
Stoweflake Mountain Resort & Spa is the perfect place to set up base. This huge, new spa has services for kids as young as seven (a parent must be present) with options that include a massage sampler and rosebud wrap. Parents can luxuriate in over 120 treatments, ranging from herbal wraps to couples stone massage. My daughter, Sela, and I both tried the signature maple body scrub, an exfoliating scrub with raw sugar followed by a body butter massage. The hydrotherapy waterfall and mineral soaking pool are for adults only.
Stoweflake has daily Nordic walks. These are done with snowshoes in winter, but when there is no snow, you just use the poles, which help stabilize you as well as add an upper body workout. There are poles for all sizes; the instructor told us, "You just need to be able to walk." We hiked for an hour through the woods, stopping for stretching.
The resort features indoor and outdoor pools, and an outdoor hot tub that stays open even in winter. The pools have plenty of noodles that kids can use to play in the water. A small game room is equipped with a couple of videogames and pool and ping-pong tables.
There are a couple of restaurants at the resort, with a fairly extensive children's menu and crayons at the ready. The macaroni and cheese, made with whole-wheat penne and the local Cabot cheddar cheese, will likely turn your kids off to the packaged variety. Pancakes with warm maple syrup are a breakfast highlight, but the resort has a number of lower calorie spa offerings. Later you can take advantage of the daily free tea and cookies.
Stoweflake is a stop on the free Stowe Mountain Road Shuttle that goes up to the ski area and down to town. You can also walk to two kids' clothing shops and a toy store. A recreation path for hiking and biking runs right past the resort, which has mountain bikes in kid and adult sizes available. In the summer, Stoweflake has an annual hot air balloon festival; even kids can take a ride.
Stowe is the quintessential New England town, with cute local shops, a cider mill and the Ben & Jerry factory (technically in Waterbury). The factory offers half-hour tours daily (free for kids under 12, $3 for adults). Because there is no ice cream production on weekends or holidays, you can see the actual factory floor, with ice cream squirted into pint containers, only on weekdays; a video plays on weekends. At the end of the tour, you get to sample some ice cream; there is also an ice cream shop, with dozens of flavors and concoctions. On the grounds, there is a large playground where kids can get their ya-yas out.
Don't miss the Cabot Annex Store, where you can load up on cheese to take home (and sample over 20 kinds while you're there). Next door is the Vermont Teddy Bear store, where you can make a custom stuffed animal.
Info:
Stoweflake Mountain Resort & Spa, www.stoweflake.com; (800) 253-2232
Stowe Mountain Resort, www.stowe.com; (800) 253-4754
Ben & Jerry Factory Tour, www.benjerry.com; (866) BJ-Tours
Cabot Annex Store, www.cabotcheese.com, (802) 244-6334
For more information: www.gostowe.com