Kids' clothing manufacturers give us an update on holiday and winter kids' collections:
—A dress made of warm winter fabric like velour, corduroy, cable-knit cotton and wool is essential for every young girl's holiday wardrobe. Other must-haves include sweaters made of soft cotton yarns, cashmere and washable wools with beautiful holiday patterns and rich textured stitches. Look for details like smocking and embroidery. To complete a classic holiday look, add red and green plaids with patent leather Mary Janes.
   For boys, sweaters are not only cozy but also cool this holiday season. Ranging from half-zip to full-zip and V-neck to crew neck, they make the perfect jacket alternative. Look for stylish details like elbow patches and comfortable fabrics like cotton, cashmere and washable wool. Popular patterns include chunky cables, Fair Isle and argyle. Plaid, herringbone and corduroy blazers paired with suede dress boots complete the look for any festive holiday occasion.
Lands End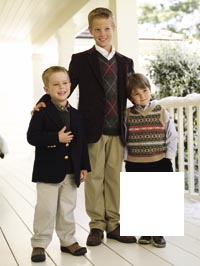 Holiday trends take classic silhouettes and update them with color and prints.  Girls' puffer vests use icy pastels trimmed with soft, natural looking fur.  Novelty printed furs freshen traditional swing coats.  For boys, puffer vests use bold primary colors, grounded with navy or black.  Classic puffer coats and wools go darker, with an emphasis on brown and charcoal colors.  Plaid prints line the insides of dressy styles, and camouflage prints accent casual, denim-friendly looks.
Mary Laura Brown
, Designer,
Amerex Kids Group.
Photo: right (on girl): London Fog; left (on boy): OshKosh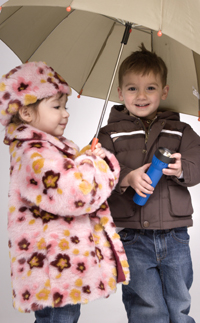 —Little girls love to look like mommy, and UGG Australia makes it possible with pint-sized versions of everyone's favorite styles.  From Classic Crochet Boots to Fluff Flip Flop slippers, mothers and daughters can have matching pairs for the holiday season. 
Kristen Thomason
,
PR manager for UGG Australia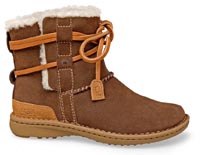 —The traditional with a twist is the new vogue. Think plaids in more sophisticated palettes, geometric shapes like polka dots, and fruity reds this season. Each of these looks has recently come off the runways at Fashion Week, meaning a trickle-down effect for kidswear. Metallic accessories with sweet details — charms or nature-inspired designs in jewelry, for instance — add interest to outfits, while also making great gifts. Layering a bomber or crop jacket with knits is a must for kids in cool weather regions. We're also seeing wider-legged pants and more definition in waistlines for girls.
Amy Dimond
,
director of fashion, Sears Holdings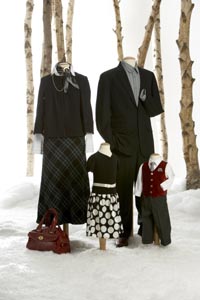 —This holiday season, children's style is all about luxe simplicity. Classic shapes are practical, and materials like velvet and herringbone wool keep your little one looking dressed up and festive!
Good lad short pants (wool flannel, $54) and cardigan (cotton, $58), and white "bambino" shirt (cotton, $32), all by Petit Patapon.
Johanna Lafferty
,
co-owner, BeanNewYork.com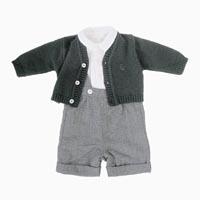 —For dress-up this holiday season it's about shine and sparkle in red and black for girls and classic tumble leather mid-ankle boots in forest green and brown tones for boys. And for snow days, snow boots that leave fun footprints in the snow are a great way to play.
Rachel Panetta
,
marketing manager, Stride Rite
—Our biggest trend for holiday fashion centers on 'texture' for boys and girls.  Both collections feature unique details that play up texture and new techniques of artwork.  
   For girls, holiday outfits that play off the elegance of our Disney Princess cameos — dresses with textured flocking, cardigans with fur collars, and adorable thermal shirts with gold artwork and sparkly rhinestone buttons.
   Texture is equally important in our boys' fashion collection, where you'll find thermal fleece hoodies with appliqués and traditional puffer jackets with fantastic multi-techniques of embroidery and appliqués. We've preserved the casual, rugged look boys love and brought in distinctive artwork to highlight the latest trends.
Ivy Ross, senior vice president, chief creative officer, Disney Store, North America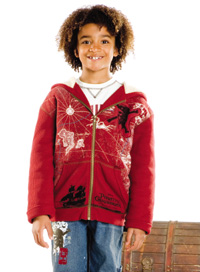 —And for mom-to-be
This holiday season, whether the mom to-be is dressing for a formal gala, an office party or a romantic evening out on the town, she will want to look and feel glamorous," said Rebecca Matthias, President and Chief Creative Officer of A Pea in the Pod, Mimi Maternity and Motherhood Maternity.
Pictured — festive wrapping from A Pea in the Pod/Mimi Maternity/Motherhood Maternity.