Travel back a few eons in Earth's history with a visit to Field Station: Dinosaurs, a remarkable dino park nestled in the New Jersey Meadowlands just outside NYC. This dinosaur-lover's haven is the perfect family outing, but hurry! It closes Nov. 26.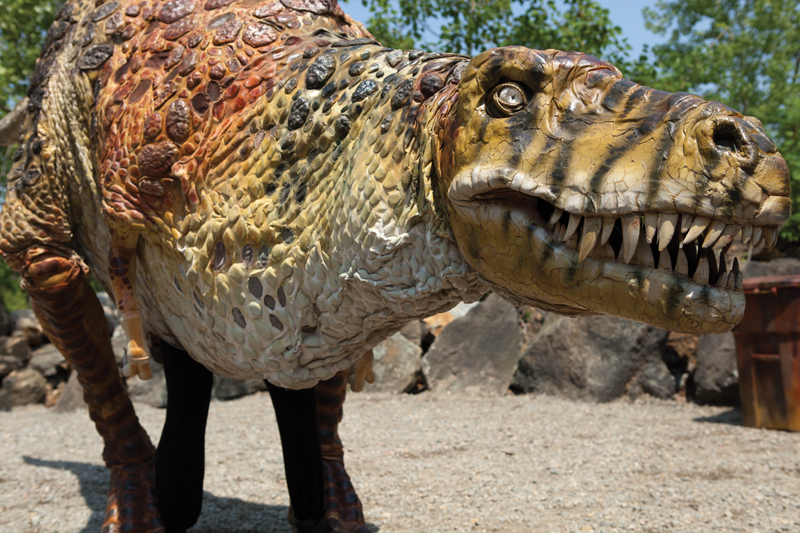 Set against the natural backdrop of the New Jersey Meadowlands, Field Station: Dinosaurs takes visitors back 90 million years for an educational, one-of-a-kind experience. This 20-acre exhibition is home to 31 life-sized animatronic (but very realistic!) dinosaurs, including a 90-foot-long Argentinosaurus, which is visible from the Empire State Building (about 10 miles away), and the New Jersey state dinosaur, the Hadrosaurus, which was the first nearly complete dinosaur skeleton ever discovered. Developed with the help of scientists at the New Jersey State Museum, this dino-lover's haven exhibits the most contemporary advancements in paleontology and is the only park of its kind in North America.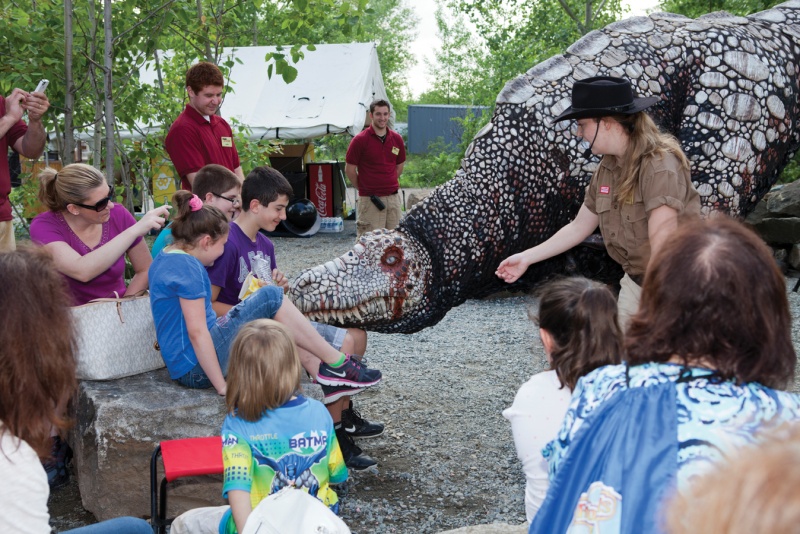 A 15-foot-tall T-rex puppet sniffs around for some food during an interactive T-rex Feeding Frenzy show.
What's Inside
Located adjacent to Laurel Hill Park, at the base of the 150 million-year-old Snake Hill formation, the park's moving dinosaurs are presented in natural woods, pathways, and trails where visitors can get up close and personal to learn about the dinos' appetites, hear the sounds they made, and even get to see their breathing patterns. Explorers can also enjoy shows, games, activities, and of course, "feedings"—all led by dinosaur wranglers, troubadours, and educators.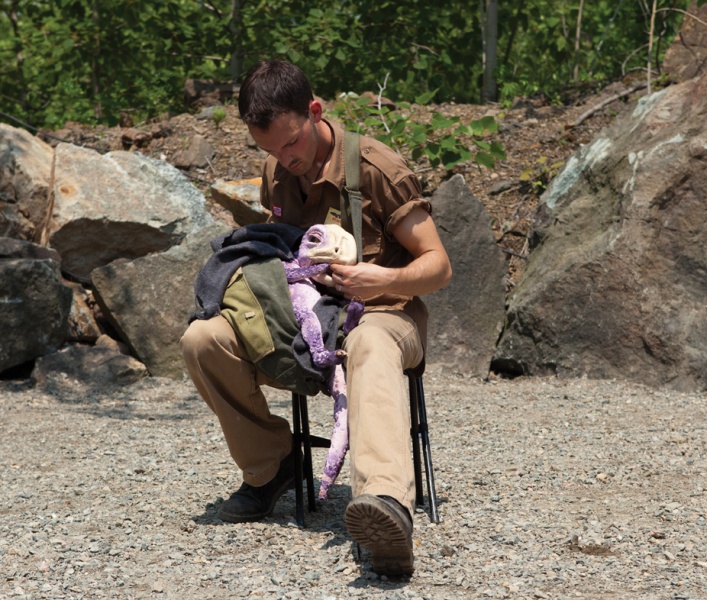 The Outback Steakhouse Amphitheater hosts a Dinosaur Meet & Greet, where kids are introduced to baby dinosaurs.
Field Station: Dinosaurs includes four learning stations:
• At the Paleontology station, kids can explore a fossil dig site overflowing with buried (fake) dinosaur bones.
• The park's Geology and Ecology section teaches visitors about the lands and rocks around them—and how they ended up in New Jersey.
• At the Climatology and Earth Science station, kids can learn about the weather and how it affected the dinosaurs as well as how if affects humans today.
• The Ornithology station teaches about winged dinosaurs and how they're related to present-day birds.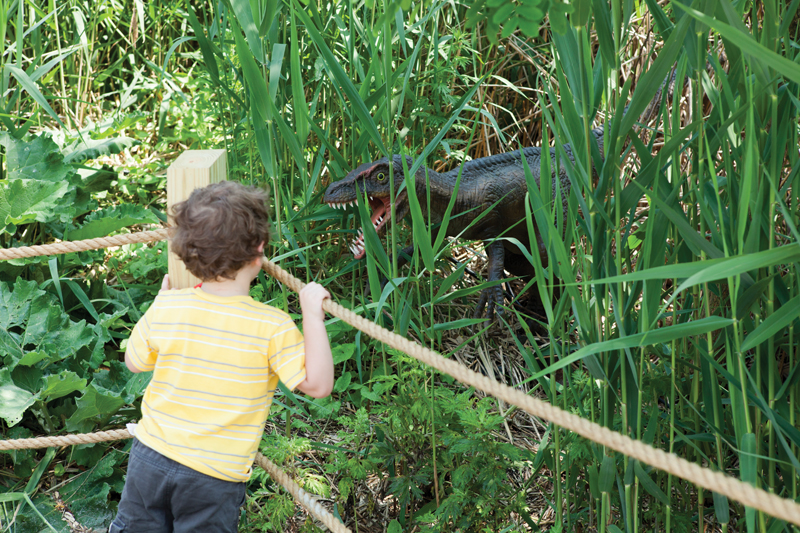 Get up close with the Velociraptors lurking near the park's many paths.
Other activities include a Dinosaur Meet & Greet; the Dinosaurs Alive! 3D IMAX experience; the T-rex Feeding Frenzy; the team activity Mesozoic Concentration, where kids become dinosaur hunters; T-rex Games, which hosts more games than the Olympics; and Raptor Feud, which is similar to the popular Family Feud game. There's even a LaQ Construction Block Dino Station that tops off the fun of this awe-inspiring experience.
In the fall, the venue hosts Dinosaurs After Dark, a guided night tour through the haunted trails of Snake Hill that ends with s'mores and singing around the campfire.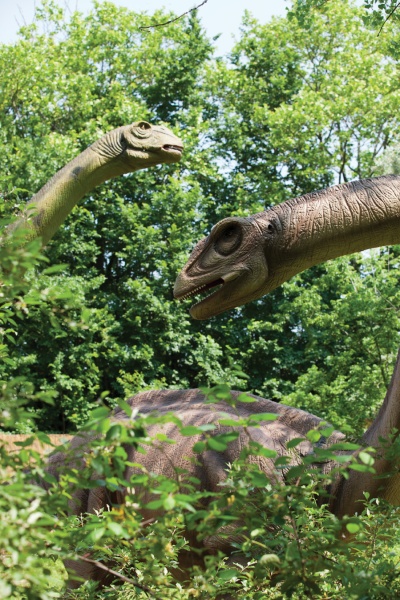 While walking the park's trails, visitors can see dinos like the Apatosaurus (a harmless herbivore) and even hear its call.
Details
Address: 1 Dinosaur Way, Secaucus, NJ
Hours: Summer: 10am-6pm daily. Fall: Monday-Friday to school groups only; open to the public weekends 10am-6pm.
Admission: At the door: $25; $20 seniors and children ages 3-12. In advance (online or via phone): $20; $17.50 seniors and children ages 3-12. Kids younger than 2 are always free.
$10 on-site parking fee; additional parking available at the nearby New Jersey Transit's Secaucus Junction rail station (check rates at parkfast.com), with shuttle bus service available to the park on weekends.
For more information: Call 855-999-9010 or visit fieldstationdinosaurs.com
Keep the fun going at home!
2 "Dino-Mite" DIY Projects for Preschoolers