TAKE PUMPKIN CARVING LESSONS AMONG DINOS AT FIELD STATION
Related:
field station dinosaurs events for kids
,
pumpking carving for kids in new jersey
,
how to carve a pumpkin
,
how to carve a jack o lantern
,
Learn how to carve a pumpkin for free with expert Robert Carr at Field Station: Dinosaurs in New Jersey and create a spooktacular jack-o-lantern to display at home this Halloween.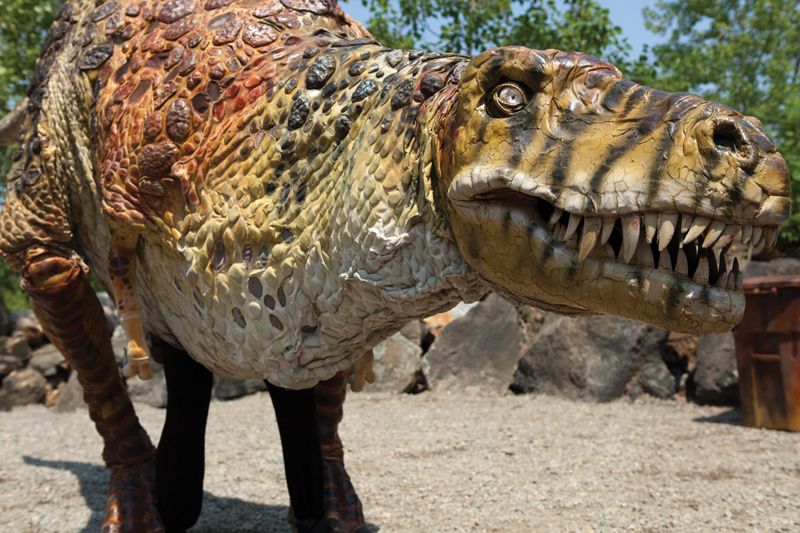 Field Station: Dinosaurs is offering pumpkin carving lessons and the final result might even scare your average Jack-o-lantern! Robert Carr, artist, actor and pumpkin carving expert, whose carving work has been displayed at 12 Miles West Theatre Company and Two River Theater Company will show visitors how to carve their favorite dinosaur in pumpkins on Sun., Oct. 21 and the following Sat. and Sun., Oct. 27-28 from 10:30am – 4:30pm.
Visitors can bring their own pumpkins or purchase one at the park, and lessons are free with admission to the park which will be open from 10am-6pm. Discounted tickets can be purchased in advance at fieldstationdinosaurs.com or call 855.999.9010.
Don't forget a flashlight! Every Friday and Saturday night, visitors can hear ghost stories about Snake Hill (located nearby) and eat s'mores at Dinosaurs After Dark. Tours begin at 7pm. Also get a cool geology lesson and participate in a dino-dance party.
About Field Station: Dinosaurs
Set against the breathtaking natural backdrop of the New Jersey Meadowlands and nestled at the base of a 150 million year old rock formation, the Field Station is an oasis of natural wonder just nine minutes from New York City. More than 30 life-sized, realistic dinosaurs (including the 90-foot long Argentinosaurus, the largest animatronic dinosaur ever made) come to life thanks to the brilliant engineering of the world's leading roboticists and the imagination of our artists.
---
Get Your FREE Indoor Activity eGuide!
---
More Halloween Articles Articles
7 Tips for Trick-or-Treating with Your Toddler
New Book Encourages Kids to Give Up Halloween Candy
Halloween Activities in Bucks County, PA
DIY Alien Monster Egg Halloween Decoration
Toddler-Friendly Halloween Events in Fairfield County, CT