We've rounded up three options to quell your boat cravings in the past, suggesting cruises that leave from NYC and allow you to enjoy the open water for a while. But what does one do if you don't have time for a boating vacation? Take a free ferry and make the most of your short boat ride, of course. Here are three free ferry options to and from Manhattan.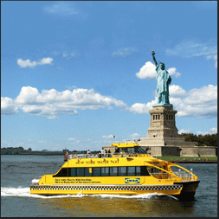 Traveling via the open waters is fun in theory, but what about those days when you just need to get from Point A to Point B? Well lucky you: with free ferry options, the journey can be just as engaging as the activity at your final destination. New York offers several free ferries, and they're some of the cities best kept secrets for entertaining transport.
Govenors Island Ferry

The Governors Island Ferry runs every weekend for the duration that the island is open, from May 26-Sept. 30. The Manhattan Ferry departs from the Battery Maritime Building at 10 South St. and the Brooklyn Ferry departs from Pier 6 in Brooklyn Bridge Park at the foot of Atlantic Avenue and the corner of Columbia Street. Ferries leave Manhattan at 10am, 11am, and every half hour until 5pm. Ferries leave Brooklyn every 20 minutes starting at 11am and ending at 5:10pm. The last ferries from Governors Island return to both Manhattan and Brooklyn at 7pm.
IKEA Express Shuttle Watertaxi

The IKEA Express Shuttle isn't free for adults every day (though at $5 a grown-up and free for children younger than 12, it's not a bad deal) but its weekend service is completely free for everyone. You can pick it up from Wall Street's Pier 11 at 11:20am, 12pm, 12:40pm, and then every 20 minutes until 8:40pm. Alternatively, if you're looking to head into Manhattan from Brooklyn, hop on at the Ikea Dock at 1 Beard St., Red Hook at 12:20pm and then every 40 minutes until 9pm. It's a great service for those shopping at IKEA, but don't write it off even if you have no reason to buy furniture. The Red Hook neighborhood is filled with kid-friendly activities and taking a giant yellow water taxi is way more fun for a child than taking the boring silver subway (not to mention the 10 minute trip across the water is much easier for parents than a lengthy underground ride!)
Staten Island Ferry

The Staten Island Ferry is the busiest ferry on the list, though it's often forgotten or ignored. Running 24 hours a day, seven days a week, this is the ferry that never sleeps. Traveling between Whitehall Terminal, 1 South St., Manhattan and St. George Terminal, 1 Bay St., Staten Island, ferry service is provided every 30 minutes from 6am-7pm on Saturdays and 9am-7pm on Sundays. Food and drinks are served on the boat, and pets are allowed (but must be caged or muzzled, with the exception of service animals). Whether you want to take a trip from Manhattan to Staten Island (or vice versa) or you just want to enjoy the ride, this ferry is ideal. If you're feeling adventurous, make a day trip out of the ride and visit The Staten Island Children's Museum. One note: you cannot stay on the ferry once it docks, so even if you just want to enjoy the scenery of the water with no destination on the horizon, plan to debark with your crew before turning around and hopping back on for the ride home.