The Scarsdale Library partners with a parent-teacher committee to add more free programming for families of children with special needs, including reading to therapy dogs and creating an accepting atmosphere.
Betsy Crouch of Scarsdale says that when she watched her twin 5-year old boys reading books with a delightfully gentle dog, she felt nothing less than pure joy. "It was wonderful for my boys to enjoy the company of a sweet, loving dog while they practiced their reading skills," she says. "It was a relief for me to not have to worry about the speed with which they read, because it didn't matter, or to worry about their behavior. They were allowed to be the beautiful, special children they are."
Crouch's sons, who both have special needs, weren't reading at home. Instead, the family was at the Scarsdale Public Library, participating in a program called "Wag Your Tale Too," one among several new library events developed with special-needs children in mind.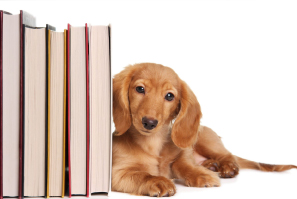 The series is the result of an innovative partnership between the Scarsdale Library and C.H.I.L.D., a committee of Scarsdale's Parent-Teacher organization. According to C.H.I.L.D., which stands for Children Having Individual Learning Differences, 8-9 percent of Scarsdale children younger than the age of 18 are classified as needing some form of special education.
The link between C.H.I.L.D. and the Scarsdale Library formed in late 2011, thanks largely to the complementary goals of both organizations. C.H.I.L.D. officials were concerned at the small number of programs in the community that were free and accessible to children with special needs. At the same time, the library was on the verge of launching its new five-year strategic plan, which calls for, among other things, reaching out to specific groups within the community to investigate their needs and work with them to secure resources, develop programming, and design services to specifically serve their populations.
"It was a relief for me to not have to worry about the speed with which [my kids] read, or to worry about their behavior."
Among these groups are seniors, teens, newcomers to Scarsdale and, of course, families of children with special needs. As Elizabeth Bermel, the library director, puts it, "The library strives to be not only a place of reading, but a center of excellence where individuals can connect with one another and grow. We want all of our patrons to feel that the library is relevant in their lives."
The slate of activities includes new initiatives as well as longstanding events that have been popular with the general public and have been rethought to be more welcoming to those with special needs. Among the new initiatives is "Yoga-a-Go-Go," a relaxed program of stretches and movement, with some parental involvement. "Wag Your Tale Too," on the other hand, is a variation of "Wag Your Tale," a popular reading-with-dogs program held in many communities.
In addition, Kurt Gallagher, an acclaimed musician who performs frequently at the library, has an upcoming concert specifically for children with special needs.
The library has also begun scheduling extra showings of family-friendly films in an atmosphere specifically suited to families of children with special needs. While these showings are open to all, the mood is relaxed, and noise or movement that might be discouraged in other settings are no problem.
What sets this series of program apart from many other special-needs programs in the area is that they are library programs, which generally means they are provided to Scarsdale residents free of cost. Karen Zielinksi, the head of children's services, explains, "I'm very excited to be able to host these programs. We want to provide a relaxed atmosphere so that special-needs children and their parents can feel comfortable coming here." The library is currently hoping to increase programming in the coming year by seeking out grants and other sources of additional funding.
According to Marian Green, chairperson of C.H.I.L.D., "There is such a need in our community for a place where special-needs families can go and feel welcomed in spite of any differences their children may have.
"These kids need to belong and feel included," she adds. "This series builds an opportunity for these families and allows the kids to be themselves."