Your birthday boy has been talking about his celebration months in advance of the actual date. Your mother-in-law is still complaining that she never got real pictures of last year's milestone bash (never mind those fleeting Facebook ones). Your sister wants to loan you everything she used for her son's Barney-themed party four years ago (never mind that your son only has eyes for Spiderman). And you have no idea where you're going to find time for planning any of this, anyway. You just know you want your child's party to be fun, memorable, and let's admit it, not break the bank.
Remember this: It's possible to have loads of fun without going crazy. We've compiled a bazaar of ideas, products, and tips in this birthday party package. Bonus: We've gathered all our best advice to help you plan, photograph, and pull off your party without a hitch (not even from that one snotty, unruly kid whose parent just happened to opt out of chaperoning).
Read on for our favorite new party products, other momentous birthdays we're celebrating in April, and advice for your shy child from our expert -- how can you make sure he'll enjoy the party as much as the other guests?


"Play Dough" Cookies
Servings: 12
Ingredients:
¾ cup butter, softened
3 ounces cream cheese
1 cup white sugar
1 egg
1 teaspoon vanilla extract
2¾ cups all-purpose flour
1 teaspoon baking powder
¼ teaspoon salt
Assorted colors of paste food coloring
24 lollipop sticks
Directions:
1. In a bowl, cream butter, cream cheese, and sugar until fluffy. Add egg and vanilla; beat until smooth.
2. In a medium bowl, combine flour, baking powder, and salt. Add dry ingredients to the creamed mixture. Stir until soft dough forms. Divide dough into fourths. Tint each with a different food color. Wrap in plastic wrap and chill for two hours.
3. Preheat oven to 350 degrees. Working with half of each color, shape dough into ¾-inch balls, and for each cookie place one pink, one green, one blue, and one orange ball together to make one large ball. Shape into a 12-inch-long roll (like a snake); starting at one end, coil roll to make a 2¾-inch round cookie. Place cookies three inches apart on lightly greased baking sheet. Carefully insert lollipop sticks into bottoms of cookies.
4. Bake cookies for eight minutes or until lightly browned. Cool and store in an airtight container.
Recipe by Terri, courtesy of Allrecipes.com.


What's Your Number?
Personalization's all the rage. Instead of focusing just on your child's name, however, why not give props to his or her age, too? (sizes 12 months-kids' 12; $38; chasingfireflies.com)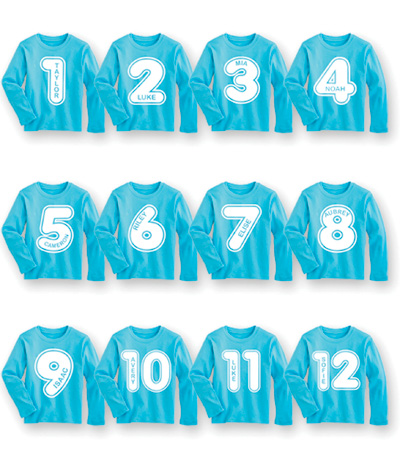 Cupcake Corner

No need to splurge on hand-decorated goodies from the bakery. These ready-to-eat designs are like decals for your food—just peel and stick onto frosted cupcakes for a whimsical look. They're gluten-free and fat-free, too; no refrigeration required. The modern themes include animals, robots, princesses, and birds. ($15.95 for 12 edible cupcake toppers; hellohanna.com)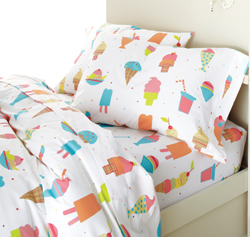 Set the stage for dreamy sleep the night before your child's birthday with these cotton confections (200-thread-count, combed-cotton percale twin sheet set, $68; garnethill.com)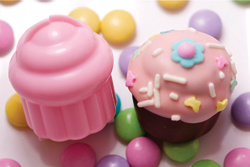 Put a twist on classic cupcakes with these cute mini-treats—the no-bake recipe could not be easier (or more decadent) and decorating them makes for a fun group effort. ($5.95 each cupcake pop mini-mold; also available in heart, cone, and ball shapes; mylittlecupcakepop.com; here's a recipe for no-bake pops)


Perfect for serving at a doll's tea party, these HABA plush birthday muffins with magnetic candles are a sweet find (ages 3 and older; $22 for set of three; maukilo.com)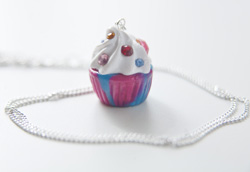 Want a one-of-a-kind gift that gives back? This handmade magenta-and-teal special edition cupcake necklace donates 75 percent to She's the First!, a nonprofit that sponsors girls' education in the developing world ($20; etsy.com/shop/AshTreeCreations; learn more about the cause supported by artist Ashley Osgood at shesthefirst.org)


Happy Birthday to…
Minnie Mouse!
The Mickey Mouse Clubhouse gang—Daisy, Mickey, Donald, and Goofy—are throwing a party to honor their favorite gal pal in the newly released DVD, which includes a convenient digital copy, I Heart Minnie ($14.99; amazon.com). Visit nymetroparents.com/birthday to download fun activity sheets so your kids can join in the Disney mousekemagical celebration. Then tweet "Happy Birthday Minnie @NYMetroParents" for your chance to win a Minnie birthday party kit, which includes party essentials (invitations, treat bags, tableware, and party accessories), the DVD, and a $20 Visa gift card. One winner will be selected at random from all tweet entries received by May 1.
The Prospect Park Carousel!
The Carousel at Prospect Park turns 100 this year! Located in the Children's Corner, just inside the Willink entrance to the Park, at Ocean and Flatbush avenues and Empire Boulevard, the carousel opens on March 31. Visit them in Brooklyn and at facebook.com/prospectpark to send your best (tell them NYMetroParents sent you!). And to learn about how they'll be celebrating the big birthday, visit prospectpark.org or subscribe to our events newsletter.
Mr. Potato Head!
Smile, it's a cherished friend's big day: Mr. Potato Head turns 60 this year, and Playskool is celebrating the milestone on Facebook all year long—check out facebook.com/mrpotatohead for giveaways, activities, and to upload photos of your Potato Head creations. Happy birthday, spud!
Oreo!
The Oreo company was born in the Chelsea section of NYC in 1912 (W. 15 St. between 9th and 10 avenues, to be exact, home of the original Nabisco bakery), and this year, at press time, more than 25 million Facebook fans had marked the centennial of "milk's favorite cookie." Check out "Happy 100th Birthday, Oreo!" for a scrumptious no-bake cupcake recipe (the star ingredient is Oreos) to use with the fab molds featured above, for some fun Oreo trivia, and to see why adults simply aren't having enough fun!


Ask the Experts Q&A: How can I make birthday parties easier for my shy child?
When the Birthday Boy is Bashful
"My suggestion would be to listen to your child…and make sure you're throwing [him] the birthday party [he] really wants. Sometimes when there is too much going on at a party it can really set off a child who isn't very outgoing. Don't invite 50 children to your party. Fifteen is a nice, round number that's very manageable at a party. Just keep it simple.
"When your child is introverted, you want to be sure that he is not singled out too often. Plan a lot of group activities, where all the children are doing something together. Make sure that you choose a party space…or entertainment that has engaging teachers who are focused on your child.
"While it is a special day, it's just a birthday party. If your child decides he doesn't want to participate during half of it, it's not the end of the world. If he doesn't feel like posing for the picture, or if he wants three pieces of cake, it's a birthday—let him do it. It's his day, after all, and you want the most important thing to be that he enjoys his birthday."
When She's a Timid Guest
"Even if it's a drop-off party, you might want to hang around for a little bit just to make sure that everything is going well. Think about something specific you could get your child to do or play with, and really try to engage her. Depending on her age, say 'Do you want to come play trucks with me?' or 'I am going to hulahoop—do you want to hula-hoop with me?' Once a child arrives, gets warmed up to the situation, and sees all her friends having a good time, she'll usually want to join in. "If she's been invited to the party, [she] probably has friends there. Say 'You love playing with Lauren and Jacob, why don't you find them and you guys can play together?' instead of saying 'There are going to be so many kids to play with,' which is something that might overwhelm your child. Think about singling out two or three of her very good friends that are going to be there, so that it becomes more of a one-on-one situation, which will probably make her feel more comfortable."
—Heather Capelle, president of Applause, a children's performing arts program with locations in Westchester and New York City, who has worked with children for 10 years and organized more than 600 kids' parties; Capelle oversees Applause's birthday party and events division, which offers several music- and theater-themed birthday party packages for kids ages 1-12. Interview conducted by Joshelle Wright.