FUN AND FUNKY UNICEF TRICK-OR-TREAT BOXES FOR A CAUSE
Related:
unicef
,
trick or treat for unicef
,
halloween
,
charity
,
giving back
,
kids
,
Each year UNICEF partakes in Trick-or-Treat for UNICEF, a program which encourages kids to give back to those less fortunate on Halloween. Learn more about their new box designs, a fun contest, and the UNICEF Halloween initiatives below.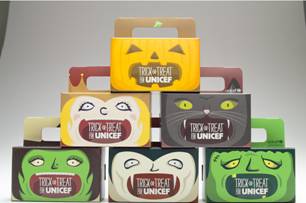 UNICEF is a driving force at Halloween and this year is no exception. With their 62nd Annual Trick-or-Treat for UNICEF campaign in full swing, donation boxes are distributed to the hands of trick-or-treaters to collect change for those less fortunate, in addition to their candy. It's an incredible way to teach your kids the power of giving back and charity, and to teach a global perspective that is sure to stick.
This year, the Trick-or-Treat for UNICEF boxes have undergone a total makeover, featuring a cast of ghoulish Halloween characters, like a monster, black cat, princess, pumpkin, vampire, and a witch. If you're child is itching to get a little creative this Halloween, partake in the first-ever "Create-a-Character" contest. Kids are encouraged to take a blank collection box (available for the first time this year) and draw their spookiest character design to be considered for the 2013 limited edition box collection. Winners from multiple age categories will be chosen and announced on Halloween. Act quick, this contest runs through October 26th. You can submit designs online via trickortreatforunicef.org.
For all of your Trick-or-Treat for UNICEF gear and more information, visit trickortreatforunicef.org, or call 1-800-FOR-KIDS through October 26th.
Looking for a way to explain giving back and the power of UNICEF at Halloween to your child? Check out our guide to UNICEF's Halloween efforts here.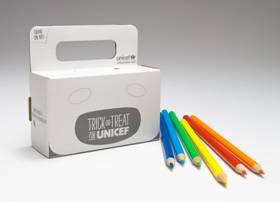 More PRODUCTS Articles
Holiday Fashions for Boys and Girls
Photographer Behind Humans of New York Releases Children's Book
New Book Encourages Kids to Give Up Halloween Candy
Runnin' Wild Kids Shoes Owner Opens Toy Store
Top 10 Audiobooks for Halloween Season