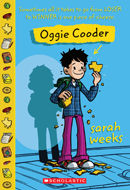 Say Cheese!
  Oggie Cooder
is the cheesiest story ever written. But that's not a bad thing — actually it's what makes this story so unique. Oggie's got a special talent, charving. Charving is when you chew and carve with your teeth, and Oggie is a pro at charving cheese! In fact, he charves the states — New York, Florida, Texas; you name it, Oggie can charve it. When Oggie's neighbor, Donnica Perfecto, tries to cash in on Oggie's talent, things take a turn for the weird. If you've got a quirky kid, get
Oggie Cooder
into their hands ASAP. This book was written, or charved, from Sarah Weeks' seriously creative mind. $5.99. Ages 7-10. For more reads like
Oggie
, check out
www.sarahweeks.com
.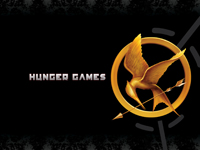 Let the Games Begin
   There's a lot of controversy spinning around Suzanne Collins'
Hunger Games
. Her story is set in a dystrophic North America. The government has collapsed, and the remaining territory has been broken into 12 provinces. Annually, each province chooses two tributes ages 12-18, one male and one female, to fight to the death in a controlled cross-country death match. When the story's heroine Katniss' little sister is chosen to fight in the 74th Hunger Games, Katniss opts to take her place. Collins spares no detail in the grueling battles that ensue. Her addicting blend of survival, romance, and social commentary make this book ideal for teens and adults alike. Scholastic. $17.99. Ages 12 and up.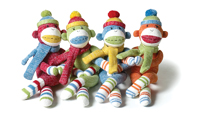 Monkeying Around
   Popular during the Great Depression, handcrafted knit sock monkeys are swinging back in full force with a modern twist for today's kids: vibrant colors, playful stripes, and magnets safely hidden inside hands and feet for hours of play and cuddle time.
Genuine Monkeez
are designed to encourage kids to play the old-fashioned way — using their big imaginations and high energy. Each monkey has its own name and personality (not to mention accessories, with your own designs), so they're fun to collect. The complete Genuine Monkeez family is available at
www.genuinemonkeez.com
, or at independent gift and children's stores across the country.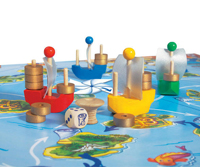 Ahoy, Matey
   Let's face it, you want to be a pirate, your kids want to be pirates, and your parents were secretly playing pirate in the basement while you were at school. The board game
Piratissmo
will bring you one step closer to your lifelong ambition. I've been playing this game (with my Genuine Monkeez) for the last few weeks, and I can't get enough. The game can be easily enjoyed by the recommended 6-year-old, as easily as it can be by an older audience. Beware however: as you race around the board trying to find the buried treasure, you may encounter some serious skullduggery. You may find yourself walking the plank, mooring your opponent's ship, or stealing their treasure. For basically the same price as a DVD, Piratissmo will keep you and your children entertained for a long, long time. Find it at
www.riograndegames.com
.