TURKEY AND BLACK BEAN ENCHILADAS 
Makes 5 to 6 servings
2 jars (16 oz. each) mild picante sauce
1/4 cup chopped fresh cilantro
2 tablespoons chili powder
1 teaspoon ground cumin
2 cups (10 oz.) chopped cooked turkey
1 can (15 oz.) black beans, drained and rinsed
1 1/3 cups French's french fried onions, divided
1 pack (about 10 oz.) flour tortillas (7 in.)
1 cup (4 oz.) shredded Monterey Jack cheese with jalapeno peppers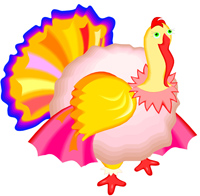 1. Preheat oven to 350 F. Grease 10x15 inch jellyroll baking pan. Combine picante sauce, cilantro, chili powder and cumin in large saucepan. Bring to a boil. Reduce heat to low. Simmer 5 minutes.
 
2. Combine 1 1/2 cups sauce mixture, turkey, beans and 2/3 cup french fried onions in medium bowl. Spoon a scant 1/2 cup filling over bottom third of each tortilla.
 
3. Roll up tortillas.  Place them seamside down in baking pan. Spoon remaining sauce over tortillas.
 
4, Bake, uncovered, 20 mins. or until heated through. Sprinkle with remaining 2/3 cup onions and cheese. Bake 5 minutes or until cheese is melted and onions are golden. Serve immediately.