This recipe for a colorful summer vegetable soup, courtesy of the owners of Tocqueville and 15 East in Manhattan, is the perfect dish to make after a trip to your local greenmarket or farmers market, when you have a lot of fresh veggies on hand.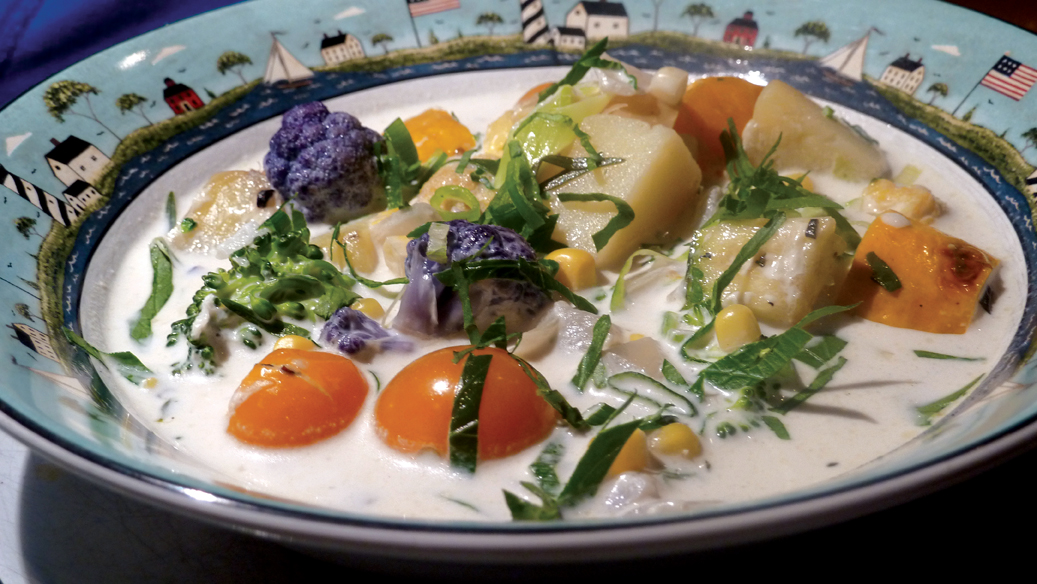 "We developed this recipe one August afternoon in 2010 after shopping at the greenmarket. The vegetables were so beautiful and abundant that we bought much more than we needed. We decided to have a vegetarian dinner using every vegetable we bought. We served this chowder with a beautiful salad and some grilled peasant bread rubbed with garlic. It made a wonderful summer dinner celebrating the greenmarket. Adding tofu is optional and adds a beautiful texture and protein. We prepare Japanese-style tofu at our restaurants, but use any tofu that you enjoy."
—Jo-Ann Makovitzky and Marco Moreira, owners of Tocqueville and 15 East in Manhattan
When preparing this recipe, remember that each vegetable has a different cooking time. You want to make sure they are all cooked to the desired doneness.
Ingredients
2 tablespoons olive oil
1 medium diced Vidalia onion
1 cup diced Yukon Gold potatoes
3 cloves garlic, peeled and sliced
4 sprigs thyme, picked off of branches
1 bay leaf
2 sprigs chopped tarragon
Vegetables
1 cup cauliflower cut into bite-sized pieces
½ cup broccoli florettes cut into bite-sized pieces
1 cup summer squash, diced
1 cup fresh corn, cut off the cob
3 pieces of scallion, cleaned and chopped
½ cup current tomatoes or cherry tomatoes
1 pint half and half
Tofu (if desired)*
Directions
In a medium-sized, straight-sided sauté pan (rondeau), heat olive oil on medium/high heat. Add Vidalia onion, potatoes, bay leaf, thyme, and a pinch of salt. Cook the mixture on medium heat for about 15 minutes, or until onions are translucent. Add cauliflower and continue to sweat for another 6 minutes (with lid on). Add squash and cook for 4 more minutes. Add corn, broccoli, tomatoes, half and half, tarragon, and scallions. Bring to a boil, then simmer for 2 minutes. Season with salt and white pepper to taste (if you enjoy basil or dill, those herbs also work well). If using tofu, gently warm and place in the bottom of each bowl before serving.
*Trader Joe's sells a good quality organic tofu. When purchasing, select the package with the most recent expiration date.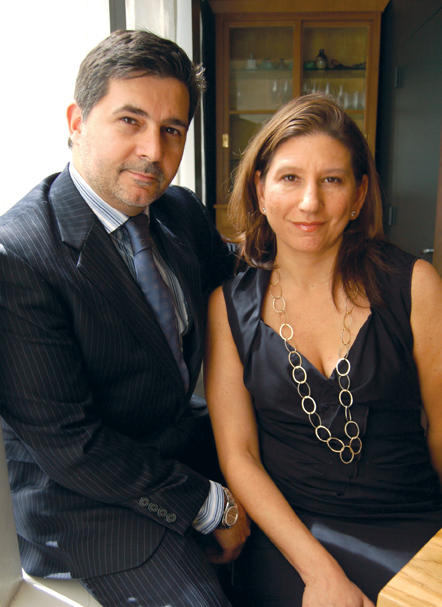 Tips for Parents
Husband-and-wife team Marco Moreire and Jo-Ann Makovitzky own restaurants Tocqueville and 15 East in Manhattan, serving foods inspired by trips to the greenmarket, like this luscious vegetable chowder. They're also parents to 9-year-old Francesca — another job that puts their foodie know-how to work. See Makovitzky's tips on dining out with kids and getting them to love healthy, local foods.