HOLIDAY COCKTAIL RECIPES, FOR KIDS AND ADULTS
Related:
holiday
,
fall
,
thanksgiving
,
christmas
,
kids
,
adults
,
parents
,
children
,
cocktails
,
drinks
,
beverages
,
cider
,
emperor
,
ho ho
,
As the temperature drops, spice up your next dinner party with a festive beverage or cozy in with a family-friendly mocktail. These drink recipes, courtesy of author and style expert Colleen Mullaney, are fun to make and - whether you choose to add alcohol or not -- are sure to warm up your holiday spirit.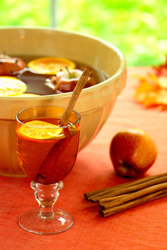 Mulled Cider
Serves 10
Large earthenware of insulated serving bowl and mugs or glasses
10 cups apple cider
5 cinnamon sticks, plus more for garnishing glasses
About 40 whole cloves
12 orange slices
2 teaspoons ground ginger
1 teaspoon freshly ground nutmeg
3 small apples
In a large saucepan, combine the cider, cinnamon sticks, 10 of the cloves, six of the orange slices, the ginger, and the nutmeg. Bring to a boil, then reduce the heat and simmer for 25 minutes. Meanwhile, stud the apples with the remaining cloves.
Strain the spiced cider into the serving bowl. Garnish with the clove studded apples and remaining orange slices and serve. Tuck fresh cinnamon sticks in individual glasses, if you like.
Variation: to really take the chill out, add 2 cups of bourbon just before serving.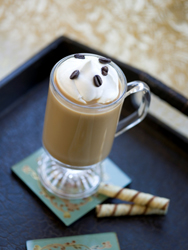 The Emperor (for adults only)
Serves 4
8 oz/ 237 ml espresso
4 oz/118 ml Absolut Vanilla vodka
4 oz/ 118ml Kahlúa
4 oz/118 ml light cream or milk
8 oz/ 237 heavy cream for whipping
Coffees beans to garnish
Prepare espresso. Warm light cream or milk. Pour espresso evenly into four glasses and top with milk. Add vodka and Kahlua. Whip heavy cream until soft peaks form. Top off each serving with a heaping spoonful of whipped cream. Garnish with coffee beans.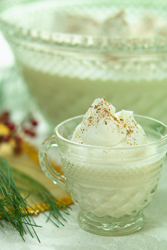 Holiday Ho Ho (variation)
Serves 12
24 eggs separated
2 cups sugar
1 cup bourbon
2 cups brandy
4 cups heavy cream
8 cups whole milk
1 quart good quality vanilla ice cream, softened
2 tablespoons vanilla extract
Freshly ground nutmeg for sprinkling
In a large bowl, using an electric mixer, beat the egg yolks and sugar until thick. Add the bourbon and brandy and mix to combine thoroughly. The liquor will "cook" the eggs. Add the cream and milk and continue beating while adding the ice cream in small amounts until combined. Stir in the vanilla extract.
In another bowl, with clean beaters, beat the egg whites until stiff. Fold into the ice cream mixture. Pour into the punch bowl, sprinkle with nutmeg to taste, and serve.
For nonalcoholic Holiday Ho Ho, omit the bourbon and brandy and add 2 teaspoons each ground nutmeg and cinnamon.
COLLEEN MULLANEY is the author of Punch and It's 5 o'clock Somewhere. For more information, visit www.colleenmullaney.com.
More Food & Nutrition Articles
Easy Holiday Dessert: Frozen Pumpkin Pie with Graham Cracker Crust
Witches Brew Recipe for Halloween by MOMables
Halloween Treats: Eyeball Cake Pops, Monster 'Toes,' and 'Rotten' Apple Punch
5 Tips for Cooking with Kids Who Have Special Needs
Easy Recipe for New Cooks: Creamy Tomato and Rice Basil Soup