NYMetroParents' deputy managing editor, Christine Tarulli, shares her family's favorite tales of those disastrous Christmas Eves spent attempting to assemble last-minute gifts.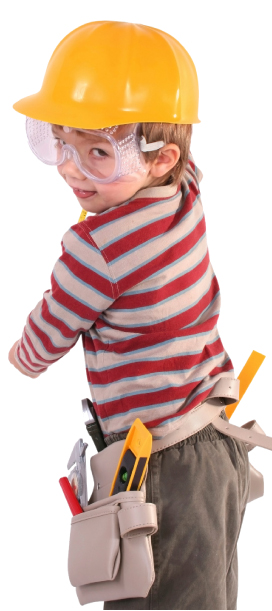 Holiday "disaster" stories -- every family has at least one or two tales to tell. I've been hearing the same silly stories from my mom year after year, and the older I get, the funnier they are. Especially the ones that have to do with my brother's and my toys, and those two dreaded words: Assembly required.
There's the classic spring rocking horse: Apparently the springs were just a tad tight, making it pretty difficult to put together. So difficult that my father's temper could have boiled a pound of pasta, and if my mom didn't stop him, he would have beaten the horse with his baseball bat (earning him the monicker "Beasty"). There were the countless number of Big Wheels we just had to have, my brother's racetrack sets, my Barbie houses -- they all caught my father's fury because "the instructions have to be wrong" or he "must be missing a piece." At least my mom was a little calmer about things: She merely wished Barbie and her friends eternal homelessness.
Then there was my brother's bike -- THE bike that took about six hours, "hundreds" of parts, pages of instructions, two toolboxes, a few cups of coffee, a whole pint of my dad's blood (that's right, a whole pint), the first aid kit, carpet cleaner, and my mom's halo to put together. And all the while, my brother and I were listening to the clanking of tools and grumblings in the living room, just knowing it was Santa and his elves laboring away on our presents we would eventually wake up to (at 6am, no less).
My in-laws pretty much went through the same assemblage of mishaps as my parents (and, no doubt, yours), but they were smarter by starting a few days before the Christmas morning surge. They did have to find a good hiding place for the gifts, though. I suppose their shower would have been a perfect spot had my father-in-law not turned the water on after the fact...Oops!
Christine Tarulli is NYMetroParents' deputy managing editor, an NYC native, and a newlywed with family on the brain.
Also see: NYMetroParents' Holiday Bazaar of Traditions, Memories, Insights, and Gifts