A mother of two maintains a consistent journal of her sons to cherish the moments of their childhood and transforms her writing into a gift they can all relish and appreciate together.
I began a letter to my son the night before he was born. Now, five years and three journals later, I have the story of his life, as told by a sometimes tired, sometimes frustrated, but always in love, mom. Everyone will tell you that a child's young life simply flies by before a parent's eyes. Everyone is right. To make matters worse, the first year has been known to actually achieve warp speed.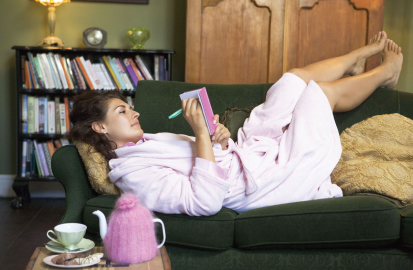 This is all I heard as I carried the kicking bowling ball that was to be my son Sean. I knew the first year would be the toughest, and to be honest, part of me actually wanted it to fly by. But a deeper part of me, the part that whispers in your ear when you're trying to find a comfortable position in bed, told me that I should make that first year last as long as I could. I knew instinctively that wonders would happen, that I would look back on for my whole life, in awe.
So I sat down the night before my due date and started a letter, "To my baby…" I thankfully planned ahead and began this letter in a blank journal that I had lying around for the past few years. Who on earth, I would ask myself, has time to "journal"? Well, as often happens when you become a mother, you find time for your children that you would never come across for yourself.
I began by recounting his already adventurous life in the womb, and went on to tell him about my hopes and dreams for his future, along with my fears of the challenges that lie in wait for me. I also told him just how much I loved him already.
For the past five years I've filled this journal with a page here and there, every week or so, continuing this love letter to my son. I've tucked away, as if in a time capsule, his first smile, how in love he was with his "toots," and even the seriously frustrating days that I plan to remind him of when he's in a position to deliver some serious payback. Let me tell you, if the house caught fire, this is the one possession that I would risk my life to save.
Whenever I'm tempted to finish off the letter, admitting that now with two boys I no longer have time for journaling, I'm reminded of all the wondrous gifts I have within its pages. Any time a really bad day makes me wonder if I'm up to the task at all, I can turn to the first time I tried to feed, or burp, or bathe him, having nary a clue and making it work nonetheless.
Whenever I'm full of myself over some perceived parenting "victory," I can bring myself back to reality by reading about the 2-year old stage when our house appeared more like a sitcom than a nurturing home. And whenever it brings me to tears to think that his first years are over, never to return, I'm reminded that I can go back and relive the highlights with just a flip of the page.

Linda Kastiel Kozlowski is a freelance writer who continues to journal for her two sons, and for herself.