Even when you've planned and prepared till the cows come home, hosting your child's birthday party can have its moments of stress - especially when a guest becomes unruly or disruptive, threatening the fun for everyone. We've compiled advice from party experts in the Fairfield County, CT, area on the best way to deal with a rude party guest, so you'll be prepared to save the day when the time comes.
Party Poopers, No More!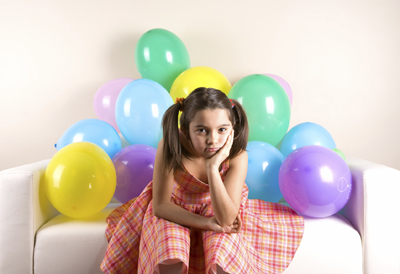 Even when you've planned and prepared till the cows come home, hosting a birthday party for kids can have its moments of stress. Remember that the occasion is marking another of your child's milestones (one year older, one year wiser, and one more candle on the cake!) - so don't let something as inconsequential as a whiny or unruly child ruin your day, and especially your child's.
All your prep will go far in creating an environment conducive to fun and peace: Pick age-appropriate activities and party places, know your guests (and their parents' expectations), etcetera, etcetera. And then be prepared for anything. As Natalie Swatz, a restaurant manager with 10 years of party entertaining experience under her belt, says, "Not every four-year-old likes hot potato or balloons. By having clear plans in place, you've certainly won half the battle."
To prepare you for the other half, we asked her and other local experts - who've seen it all - for their advice:
How can parents deal with a young guest who is being disruptive at their child's party?
"The secret to having a successful, stress-free party is to have the children constantly engaged in an activity. They should move seamlessly from one attraction to another. And the food and drink should be set up and ready to consume the minute the guests sit down. Kids can be impatient - and more importantly, easily distracted! Use that to your advantage.
Hosting your child's party outside the home can often make life easier for the parents. We've been doing it for twenty years, so we've come up with or own solutions for dealing with issues such as disruptive guests. Our first strategy: Talk to the problem guest and warn him that if he continues to misbehave he will not be allowed to participate in the activities and games. If that doesn't work, gently inform the child that he will be the last to receive tokens or goodies that may be given out near the end of the party. This usually works. If all else fails, we place the child next to the host and remove him from the attraction so as not to endanger any of the other guests. We very rarely have to resort to this measure, though, as the other strategies are typically enough to distract and re-engage the child in the party."
-Jerry Petrini, owner, My Three Sons, Norwalk
"The best way to deal with an unruly child at a party is to try to avoid the situation in the first place!
First: Plan out the party's itinerary beforehand - with a specific timeline for each activity.
Second: Keep the children engaged with enough entertainment. This can be a bit tricky, as you don't want the party to feel rushed and you also don't want to overwhelm the children by including too much. Depending on the age group, you need to allow the proper amount of time for each activity and plan enough activities so the children do not lose interest and get bored.
For example, five-year-olds will spend much less time on a craft at a birthday party than a group of seven-year-olds. And keep in mind that some individuals will finish ahead of others. To compensate for this, you need to do something with those that finish a craft earlier by playing a game where others can join in as they finish. Those that need more time get to finish, and those that are done quickly don't become bored and unruly. We use trivia questions with multiple choice answers and other favorite traditional games to keep the children entertained. When all catch up, we proceed with the rest of the party itinerary. Having done about 1,000 kids parties, we find the formula that works best for us to create lots of happy memories!
In my experience, children age five and up are easiest to manage for birthday parties because they are not overwhelmed by being part of a big group. My advice is to keep the number of guests smaller if you decide to do a party for children younger than five, and avoid complex crafts.
If you do have an unruly child and the parent is not present, the host parent can try to distract the child with some questions or take her aside to show her something, if you are at a party venue. Often if you take the child out of the situation for a short time until the next party activity takes place, the behavior improves."
-Nanci Lewis, founder and president, Sweet Rexie's, Fairfield
"There are always a few challenging kids. For them, be firm and straightforward in your directions. Don't give them a laundry list of rules to follow, but do be clear about expectations, maybe pulling someone aside to avoid embarrassment if necessary. Just like adults, children want to be respected and understood.
Prior to a party held outside the home, I recommend talking to the host of the venue about their tactics for handling unruly kids. Most establishments will generally have written standards for employees to follow, so they can be open about how they'd like a situation handled.
And no matter where a party is being held, it is helpful to engage in discussion with the parents of any guests you might be unfamiliar with. Kids often make new friends they're eager to have at their party, and that unfamiliarity can be disconcerting in a group setting. Having a conversation with parents beforehand goes far in making a connection and getting both families on the same page about expectations. Some parents don't mind a call from the birthday mom if their own child is in need of guidance, while others feel it is your role to deal with their child, good or bad, for the duration of the party. (Which brings me to my next point: Have all invitees' phone numbers and contacts on hand during the party!)
Always. always have a 'plan B'-and back-up. If you're not an outgoing individual, you might consider bringing your fun neighbor, an older niece or nephew that is a kid-magnet, or another adult to help you gain control when needed. When it comes to chaperones, home parties should have enough adults for every two kids if the children are four or under. Little ones are fast and need guidance for everything. From ages four to eight it takes fewer parents to have control over the party. I feel after the age of eight, most parties only need two or three parents, unless you have a group over 15."
-Natalie Swatz, general manager, Bellizzi Restaurant, Mt. Kisco
See more advice from experts in your area on how to handle an unruly party guest