Your child's caregiver is your employee as well as an honorary member of the family, which can make for a complex relationship. From how to find a nanny in the first place to managing the relationship once you do, we've got the information parents need.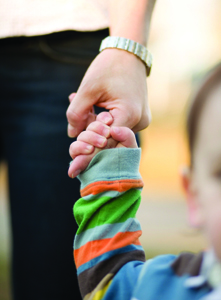 Make the Match!
Choosing a nanny is one of the most important decisions you'll ever make. "This is the person who is helping to shape who your children are, and it's supremely important to find the right match," says psychotherapist and parent coach Tammy Gold, who runs the consulting firm Gold Parent Coaching in NYC.
If you're lucky enough to find someone via a referral from a friend, many feel that's the way to go. Community groups and local newspapers are also powerful resources. Many parents-either frustrated by a search that has yielded no matches, or wanting the help up front-go the agency route. Doing so depends primarily upon time and budget (and, of course,
whether or not you mind having a third party pitch in).
Placement agencies locate and prescreen all candidates before they're sent to meet a family; and do extensive background checks which include criminal, sex offender, and driving records, a social security verification, as well as education, employment history and references. Agencies work with both parties to ensure a solid match, and often work as intermediaries when conflicts arise. "A good, reputable agency has the nanny's and the client's best interests in mind," says Susan Tokayer, president of Family Helpers, a full-service domestic placement agency in Dobbs Ferry and
co-president of the International Nanny Association. They determine
qualified candidates, but a suitable match often comes down to plain old chemistry. "There is usually one particular person that parents just click with," Tokayer says.

Many moms, moreover, are dealing with feelings like guilt about returning to work or apprehension about bringing a stranger into their homes. "It's almost impossible to take the emotive nature out of this process,"
says Gold. Agencies can help make it a more objective experience.
According to a 2008 survey conducted by Park Slope Parents, 36 percent of area parents found their nannies through a friend, while only 4 percent used an agency. The added level of security that agencies provide comes at a premium. Placement fees range anywhere from 12 to 15 percent of a caregiver's annual salary. And with the mean salary for nannies in the NY metro area coming in at $25,550, according to the Bureau of Labor Statistics (more if you need someone to care for multiple siblings, with an expertise in special needs, or factoring in overtime)-that's a pretty penny.
One in-between option: online sites that charge a nominal fee (as low as $50 a month) to match you with nannies in your area. Much like a dating site, the nannies post their profiles, which include employment history, expertise, fees, availability and other pertinent info. Although the nannies are not screened, the sites help get through time-consuming legwork, and provide sample forms for hiring and crucial tax information.
Put "Nanny Envy" in Perspective.
Kerry Gillick Goldberg hired a nanny when her five-year-old daughter was
just one month old. She worked long hours and commuted to Manhattan from her Bethpage home, leaving very little time with her daughter.
"I was nervous because I didn't want my daughter to not know that I was her mother." She says she had no frame of reference for the nanny relationship ("I told her when I interviewed her that the only thing I knew about nannies was Alice from 'The Brady Bunch'!").
This feeling is very common, according to Gold. "We try to coach parents to understand that it's wonderful that their children have created a bond with this other human being, but that they will always know who their mom and dad are."

Gillick Goldberg made a habit of announcing "Mommy is home!" when she walked in the door at night. She also had a tough time when the nanny would call to tell her all about her daughter's firsts. "She was trying to share, but I felt that I was being a bad mother because I missed my child rolling over." They decided the "first" would be when she saw it for the first time-so instead the nanny would tell her that "exciting things" happened that day.
According to Candi Wingate, the founder of
Nannies4hire.com
and
Care4hire.com
, moms can sometimes feel "nanny envy" because they're missing out. It's important to remind yourself, though, why you hired this person in the first place. "You worked so hard to find the right nanny, and you wanted somebody that your children love so much that they want to spend time with. So don't feel guilty," she advises.
Gold says that when moms return to work, they feel a host of different emotions including guilt, anger, fright and frustration, but it's important to deal with the issues and not project them on the nanny. "Remember: You're the parent, and no one is ever going to take your place. Give yourself time, get to know the nanny, and build a partnership. This is someone who is going to make you a better parent."