Summer school can boost your child's grades and create confidence going into the next school year. Here are tips on how to cure the summer school blues and help make it a success instead.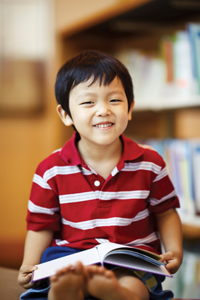 For many kids, the end of the school year means the start of barbecues, bathing suits, beaches, and lazy summer nights. For others, it could mean the start of something else: summer school. Whether your child is a struggling student or seeking enrichment, adjusting to summer classes may cast a shadow on your family's sunny summer forecast.
According to Ilene Pappert, L.M.S.W., director of Goodhue Center of The Children's Aid Society in Staten Island, motivating a child to stay focused and engaged through his classes and keeping his chin up may require going beyond pep talks. "Parents shouldn't ever lose sight of the summertime," Pappert says. "There should be a good balance of learning and fun." Let your kid know summer school isn't a punishment for not hitting the books hard enough during the school year, and that it is a chance to catch up on what she did not understand - as well as earn promotion to the next grade, or expand their knowledge through specialized programs and classes.
A variety of factors often force summer school planning to happen last minute. This can throw a wrench into your family's plans, but staying positive for your child is important. While you might have to postpone that overdue and well-deserved vacation, studies show that a successful stint in summer school can not only boost your child's grades, but can also create confidence going into the new school year.
Set goals for success.
Ask your child where he or she envisions himself or herself at the end of the school term. Start by making a list of weekly goals. Identify the steps needed to ensure success and come up with a plan of action. You may want to consider setting up a reward for each successful week. Working toward a weekly reward will help him keep his eye on the prize.
Create a schedule.
For some, summer school's accelerated learning pace can be a little overwhelming. Create a calendar of scheduled due dates and activities and hang it on the fridge or somewhere that is visible regularly. Keeping a routine can serve as excellent motivation to get started on assignments early. As assignments and tasks are complete, cross them off with your child. To keep his momentum you may also want to include any special summertime activities you have planned for the week.
Review.
If your child is repeating a course in the summer months, be sure to read and review old class notes before and during the summer session. Reviewing the notes together can provide you and your child with a better understanding of where he or she struggled and how to can improve in the subject. You'll be surprised at how readily the information sinks in a second time around.
Make friends.
Summer school classes are often held at a different school in or around the county, so your child may find himself in unfamiliar territory. Turn this into an opportunity for him to make new friends. New friendships can help brighten attitudes towards being in the classroom again. And study buddies are a plus.
Connect with the teacher.
Small classes provide opportunities for individualized instruction and a more intimate setting for learning. "Get to know your child's educators, and talk to the summer instructor about your child's progress -- and work with them on setting goals," says Pappert. Working along with teachers can help alleviate some of the stresses of summer school. If your child is struggling in a certain content area, you should discuss how you could provide extra help to reinforce learning at home.
Switch roles.
Ask your child what she is learning in school, not about test grades. Have her teach you what she learned in school that day. Putting the lesson into your child's own words will help her retain the information and hey, you might learn something too (the seemingly always new "new math," anyone?).
Beat the heat.
Hot and muggy days can make us all feel sluggish. You can help your child battle the draining heat by packing lighter meals and snacks. Some suggestions are fresh fruits like watermelon and apple slices, and vegetables such as carrot and celery sticks. To keep her hydrated while her brain is at work, stash a cold bottle of water or juice in your child's bag. Of course, make sure to check the school's policy of snacks in the classroom before packing a brown bag.
Sneak in study time.
You can work along with your child's teacher to come up with creative ideas to incorporate learning into summer time activities. Sneak in study time at the beach or even around the big city. "New York City is a great place for enriching activities," says Pappert. "There are so many opportunities to incorporate learning into a fun day." She suggests exploring some of New York's historic landmarks like the Statue of Liberty and Governor's Island. A simple summer learning game to play while at the beach, park, or even your own backyard is beach ball vocabulary toss: Write key vocabulary words on a beach ball, toss around with your child, and have him define the word closest to his left thumb.
All work, no play?
Summer school does not have to take up all of your child's time -- nor should it. Play time is still very important. Allocate time for activities with friends and plan special trips to the amusement park, beach, or zoo. Planning an activity after a big test or completion of an assignment could be a good mid-week push. Don't forget to mark them on your calendar!
Also see: Four Tips to Break Your Child's Bad Homework Habits
A Parent's Guide to Summer in the NYC Area