I would watch them arrive from my family's cottage overlooking the beach. Like a parade of ants, they would begin their march, loaded down with everything they needed for a picnic lunch at the lake. Coolers, lawn chairs, beach blankets, sunbrellas, sand toys, perhaps a kite.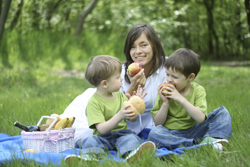 As the sun began its descent downward, they would depart — and I would bear witness to the mess they left behind. Pop bottles, food wrappers, a punctured PVC water toy…often even a used diaper.
   I don't begrudge these picnickers their day at the beach. Summer picnics — whether at a beach, a park or your own backyard — are wonderful, warm-weather experiences. Less wonderful are the heaps of garbage they often generate. So here's a guide to a summer picnic that's easy on the earth:
Getting there: Try to bike, walk, hike or take public transportation. Less pollution, less greenhouse gas emissions that lead to increased climate change. More exercise for you, and a better chance to explore your community.
 Food: Stick to in-season fruits and veggies from a local farm so more fossil fuel wasn't expended getting the food to your picnic basket. Perhaps start with a trek to your farmer's market to stock up on goodies. If you're a carnivore, make meat a smaller part of your meal and make it organic, meaning the animal was raised more humanely without antibiotics or genetically-modified feed. Better for you, better for the planet.
 What to pack: Avoid disposables and opt for use-them-again dishes, cutlery and storage containers. Invest in a picnic basket (you can purchase Fair Trade picnic baskets online — Google "fair trade picnic baskets" or check out Ten Thousand Villages stores). Cheaper for you in the long run, fair for workers, less garbage for the landfills.
 Protecting yourself: Sunscreens and insect repellent are often a necessary part of any summer get-together. Stick to products that are made with fewer chemicals and toxins; aim for all-natural ingredients. Some popular sunscreen brands include Aubrey's Organics, Burt's Bees, and Kiss My Face. Natrapel has an insect repellent that's DEET-free and effective for all but the most mosquito-infested areas. Other popular brands include Bite Blocker, All-Terrain Herbal Armor, and Burt's Bees Lemongrass Insect Lotion.
 Protecting habitat: While exploring is part of the fun of playing in nature, be careful to teach children (and pets!) to respect the flora and fauna you encounter. Encourage children to admire flowers, but not to pick them; be fascinated by critters but don't harass them. Pack binoculars so kids can feel like they're getting up close and personal without stressing any of the creatures they spot. Stay on paths, take only photographs and leave with only memories.
 Educate yourself and your family: Read books about clouds and weather, pack a bug or bird book to identify creatures you might see, and allow kids their own journals to record the day.
 Pack it in, pack it out: Be sure to take away any garbage you generate and take home any recyclables. And don't hesitate to pick up after those who won't pick up after themselves. After all, we're parents. We should be used to it.
LESLIE GARRETT is a mother of three, and author of "The Virtuous Consumer: Your Essential Shopping Guide for a Better, Kinder, Healthier World (and one that our children will thank us for)". Visit her at www.virtuousconsumer.com