We sat down with a few summer camp experts, including moms and camp directors, to bring parents practical advice on what to pack (and what NOT to pack) with your child for camp.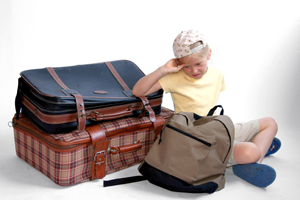 You and your child have chosen a summer camp, completed all of the necessary paperwork and doctor visits, and made travel plans. Now it's time to tackle that final project before your son or daughter's summer of fun: packing. We talked to a variety of experts-including the experts you most want to hear from: experienced parents-and gathered the following tips to help you decide what to cram into your darling's duffel and what to leave at home.
Stacey Udell, "a veteran sleepaway camp mom" from Long Island, begins with the basics. "Follow the camp's list," says Udell. "They provide it for a reason." That may seem like a no-brainer, but faithful list following will insure that none of the essentials-like insect repellent, sunscreen, a water bottle, rain gear, long sleeves and pants for wooded hikes, toiletries, medications, etc.-are overlooked.
List in hand, "sit down with your child and start to figure out what you'll need to buy, and what you already have," suggests Candy Cohn, assistant director of Maine Arts Camp. "Take your child with you to buy the items for camp, and let him or her pick things out with your guidance...Buy a permanent marker and label everything with your child's name, or get your child to help if that's feasible. Make sure your child helps you pack, so he or she knows where everything is."
"Purchase the least expensive socks and underwear because [many] of these items will not come home," says Ken Etra, owner and director of Camp Pontiac in New York. "Prewash new colored items so they will not run in camp laundry." The folks at Camp Waziyatah in Maine find that campers often forget useful items like "shower sandals, colored bath towels (so campers can recognize theirs easily!), a flashlight with extra batteries, and a second pair of sneakers."
While you're working your way down the checklist, don't be afraid to "call the camp if you are unsure about anything," advises Ariella Randle Rogge, assistant director of Sanborn Western Camps in Florissant, Colorado. While you're at it, Rogge suggests, "ask if there are any items that might be handy to have...that might NOT be on the packing list."
Remember to include a few comfort items, like "prestamped, addressed envelopes and paper...for easy letter writing," says Kathy Buckworth, mother of four and author of Shut Up and Eat: Tales of Chicken, Children and Chardonnay (Key Porter Books, 2010). Udell also recommends tucking love notes and a small family photo album in among your child's belongings.
Ellen Pober Rittberg, mother of three and author of 35 Things Your Teen Won't Tell You, So I Will (Trade Paper Press, 2010), recommends items to encourage your camper to express his thoughts and feelings and document his summer, such as a journal or art supplies. Rittberg offers some practical tips, too. "Pack an extra set of flip-flops," she says. "If your child breaks his or hers...he or she [could come] home with a case of athlete's foot."
"You might consider packing an extra bathing suit, especially if your child is on the young side," Rittberg continues. "If the child wears a bathing suit that is not quite dry [the day after swimming], that could be an invitation for...an unhygienic condition." Both Buckworth and Rittberg suggest sending camp-bound kids off with some icebreaker items to share or trade with bunkmates, like individually wrapped nonperishable snacks-Rittberg likes sugar-free lollipops-playing cards, or comic books.
Now, what not to pack? Anne McSorley, a psychotherapist for children and teens and consultant to the Aloha Camps in Vermont, urges, "Leave the technology at home." This advice jibes with what we heard from several of our experts: Don't pack anything valuable. In addition, McSorley explains that keeping iPods, cell phones, and laptops out of the camp experience "let[s] kids have a break from being entertained that way" so they can come home having developed valuable new resources like "self-concept, problem-solving...the ability to detach from Mom and Dad" and an increased capacity to "develop their own ways of [finding] entertainment and fulfillment."