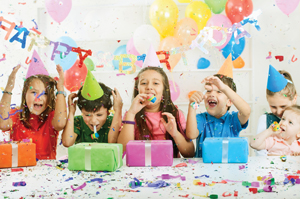 Want to throw an amazing birthday party, but short on time? No problem. We talked to leading experts who came up with some of the best ideas so you don't have to. So go ahead and pick the ones that suit your party - pronto!
The Experts



Jenna Higgins

Event diva and author of Bashes on a Budget - Kids' Birthdays (CreateSpace)

Kathy Peel

Author of The Busy Couple's Guide to Sharing the Work and the Joy (Picket Fence Press)




Hannah Keeley

Host of the TV series "Hannah, Help Me!" and founder of HannahKeeley.com




Betsy Price

Owner of Betsy and Company, a complete event and party decorating company



Planning
1. Shut down your computer: Brainstorm with your children and you'll have great ideas in no time.
2. Make a checklist and create a schedule for a smooth soirée.
3. Shopping can be quick: make a list of everything you'll need from beginning to end and then a list by store.
4. After sending the snail mail invitation, send an email reminder - you'll get a response quicker than by making individual phone calls.
5. Don't write out each invitation by hand: buy an invitation kit and print invites on a home computer. Or, for older children, send out a Facebook event invitation or an Evite; click send and you're done!
6. Get your head count early: Send out invitations 6-8 weeks in advance.
7. Give the professional photographer a list of the people and key moments you want captured.
8. Don't rush last minute: choose a venue close to home and ask if you can arrive early to set up. Or even better, have the venue do the setup themselves.
Get Help
9. Ask the parents to stay and help out.
10. Have a stress free start: ask a sibling or parent to greet guests, make them feel welcome, and show them the first activity.
11. Assign your husband, partner, or a grandparent to completely handle decorations, games, or cleanup.
Decorations
12. No need to worry about getting the perfect shot: get a professional photograph taken of the birthday child beforehand, and display it at the party.
13. Instead of blowing up balloons yourself, have them delivered to the venue.
14. Don't stress out about finding every party item with the licensed character: choose one item and coordinate the rest with items of the same color.
Activities
15. Play a simple trivia game like "Who Knows the Birthday Kid?"
16. Pack a cooler of refreshments, head to your local park or ball field, and play flag football or baseball.
17. Utilize your own talents or hobbies for the activities: teach children how to paint, cook, or dance.
18. Don't spend endless hours online: get quick recommendations for great entertainers from friends and family.
19. For a sleepover party, buy mini pillows for the girls to throw at each other and also bring home as favors.
Food
20. Pick up vegetable and fruit platters - no slicing, no fuss!
21. Ask parents to bring a special dish and make it a potluck.
22. Set up a pasta or chili bar, or have kids make their own sandwiches or mini pizzas.
23. Don't spend the night before baking: have children decorate individual mini cakes as you decorate the main cake.
24. Buy individualized cups of ice cream - they're convenient and make cleanup a breeze.
25. Enlist the help of a pro: purchase a designer cake or pick up a ready-made one and use colored gels and icings to decorate it.
Goody Bags and/or Favors
26. For spa parties, gather cosmetic samples at store makeup counters which double as favors.
27. Don't spend time stuffing goody bags: pass out small cellophane bags and have guests collect candy from the piñata to take home.
After the Party
28. Don't rush: collect all cards and gifts at your venue and open at home.
29. Address, stamp, and have your child sign thank you notes ahead of time. Then, make a list of the gifts as they're opened and write a personalized note later. Or create a thank you note template or fill-in-the-blank. Change the name and the gift, then sign it and it's done!
30. Save the snail mail thank you notes for family, and send quick emails to friends.