Carla Kelly, vegan baker and author of "Quick and Easy Vegan Bake Sale," offers tips on the best way to store baked goods - including cakes, pies, muffins, cupcakes, and other desserts - so they keep fresh as long as possible. Kelly also gives advice on the proper way to freeze and reheat baked items.
If you're not eating your baked item immediately (what willpower!) or want to give it as a gift, you need to store it appropriately and then present it in a manner that suits the situation. In our house, unless a baked item is made specifically to give away, even when everyone gets told, under pain of death, not to touch it, it doesn't last long!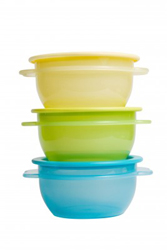 1. Store your baked goods only after they have been cooled completely. If you pop a hot or even warm item into a bag or sealed container, it will generate steam. That means it will go soggy and not stay fresh and tasty as you would like it to. All your hard work wasted. However, if anything needs to be stored for longer than a few hours, it must be placed in some form of a sealed container or it will start to dry out. There is nothing worse than a dry piece of cake or muffin that you have to choke down.
2. I have a selection of old-fashioned metal cake tins and also Tupperware-type plastic containers in which, lined with parchment paper, I keep my baked items, to keep everything moist and fresh and to prevent drying out. I prefer to use the tins as they have the added advantage of not letting in light; but to be honest, it's really just because they look so much better on my countertops. They also have the added advantage of not letting anyone see what is in them before I'm ready to serve! Most baked goods keep well for up to two to three days in these containers; see the specific recipes for more details about storage. If you're storing the goods for a longer period, or if there's a heat-sensitive icing or filling (does it really last that long at your house?), you'll need to pop them in the fridge.
3. If storing items in the fridge for more than a short period, as you would to set a topping, they need to be in a Tupperware-type container or covered with plastic wrap, to prevent the possible absorption of odors from other food in the fridge. I personally prefer not to keep some things in the fridge, as it can make them quite firm, or even hard, and sometimes dry. Some other items, such as pies, tarts, and cakes with icing, do need to be kept in the fridge for the sake of food safety. Any items stored in the fridge need to be returned to room temperature (or reheated if to be served warm) prior to serving for ease of slicing, and to ensure the best taste and texture. Baked goods will stay fresh for three to five days in the fridge.
4. An alternative for longer storage is freezing. Most icing does not freeze well, so if you are planning to freeze something that is to be served iced, plan to freeze the plain (not iced) item and ice it only after thawing.
To freeze baked items, wait until they are completely cool, place on a pan or large plate, then pop into your freezer, so items freeze individually and not all joined together. Once they are frozen, you'll need to transfer things such as cookies, muffins, and slices of loaves to individual freezer bags or wrap them in plastic wrap, so you can just put them into lunch boxes and work bags, as is, to thaw before lunchtime. Alternatively, you can use a larger freezer bag and place everything inside for removal, and thawing, one by one at home. Larger items, such as pies or cakes, can be put directly into their own well-sealed freezer bags. Don't blame me if you end up with freezer-burned items if you forget to wrap them well or pop them into a freezer (not just a regular plastic) bag. Most baked goods will keep well in the freezer for up to three months.
5. To thaw your frozen baked items, you can either allow them to thaw at room temperature over the period of a few hours or thaw them in your microwave on high in 10-second bursts, until soft. The microwave method is not recommended for pies, as it may make your crust go soggy!
6. If you want to reheat items to be served warm, however they have been stored, without using the microwave, turn your oven to 300°F, wrap the thawed item in tinfoil, and place in your oven for about 10 minutes. This gives a fresh, out-of-the-oven feel to reheated goods.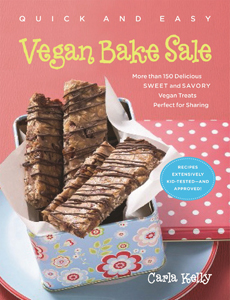 Also see: How to Use Your Freezer: Tips from 'America's Dinner Mom'