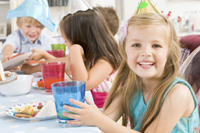 Between invitations, entertainment, and all of the excitement, planning a fun and memorable birthday party can seem a little overwhelming. But we're here to help! Whether it's your little one's first birthday or your teen's Sweet 16, we consulted the best in the business for great tips and the newest trends for planning a successful birthday party at any age.
Our Team of Experts

Linda Kaye
President/founder of Birthdaybakers, Partymakers, Inc.; author of Bake a Cake Party Book; and Nick Jr.'s online birthday party expert. For more information: www.partymakers.com.
Jenn

a Higgins
Mom, event diva, and author of Bashes on a Budget -Kids' Birthdays (CreateSpace 2009). For more information: sites.google.com/site/bashesonabudget.

Janis Dionne McDavid, aka Ms. Janis
Birthday party entertainer, teacher, and musician. For more information: www.msjanis.com.
First Birthday
Time: Children get tired quickly so having an hour and a half party scheduled after naptime is preferred. You don't want your child to have a meltdown and this is when children have the highest energy level. -L.K.
The guest list: Limit it to no more than two or three children and their parents. Keep in mind that the more children, the louder the volume. -J.H.
Fun and games: The entertainment should engage your baby and use lots of music and instruments. Look for an entertainer who can use finger play, scarves, parachutes, and involve the adults as well. -J.M.
Food: Bite-sized foods that don't require sitting down and cutting are great options. Consider a buffet of mini-wraps, cheese, fruit, and mini water bottles. -L.K.
Goody bags: Fun stickers that go with your theme or a coloring book and crayons are perfect. -J.M.
Capture the moment: Take a few family photos before your child gets cake all over the new outfit. Must-have photos include blowing out the candles, the entertainer with your child, and a group photo of all the children. -J.H.
The cake: Make or buy a cake with a design that your child will recognize, like a favorite stuffed animal or toy. Having a separate mini-cake for your child can become a tradition and the child can get messy with that one. -L.K.
Toddlers
Time: Ninety minutes is a good time frame. A light lunch, some running around, and it's time for a nap. Guests won't expect a long birthday. - J.H.
The guest list: The number of guests should be between 12 and 20. Keep in mind that children should be supervised by their parent, caregiver, or the grown up who brings them to your party. -J.M.
Fun and games: Clowns who arrive without any makeup and then put their makeup on in front of the children is fun because the children won't get intimidated when they see that the clown is a real person. -L.K.
Food: For the children, chicken tenders, applesauce, crackers, and fruit are great; keep it simple for the adults with a chili or a taco bar. Something you can fix before the birthday is key. -J.H.
Goody bags: Incorporate the theme of the party and your child's interests. For instance, if your child loves robots, the children can build and decorate the robots and then take them home. -J.M.
Capture the moment: Children love watching themselves so upload the photos to your computer and put together a simple slideshow the kids can watch on TV. -L.K.
The cake: Make your own birthday cake and get your child involved. Baking your own makes the cake that much more special, especially if it's the first time you will be baking one together. -J.M.
Preschoolers
Time: Two hours works well for those parents brave enough to leave their children and pick them up later, and gives the children enough time to enjoy themselves without hitting the dreaded meltdown point. -J.H.
The guest list: The number depends on where you'll be having the party but, regardless, invite the people significant in your child's life. -L.K.
Fun and games: Your child's personality should reflect the entertainment. Themed parties are fun because the children jump right in and use their imaginations. Get creative and make up activities around the theme. -J.M.
Food: Individually wrapped items like granola bars, fruit treats, and prepackaged crackers are all fantastic options to supplement your main meal. You can recycle what the children don't eat, and it's your best shot at getting them to eat something. -J.H.
Goody bags: Books around the theme of the party along with a small bag of candy are great. -L.K.
Capture the moment: Shoot the times when your child is interacting without you. Independence is huge at this age, so try to get those moments from a distance if possible. -J.H.
The cake: Ask your child what they want and offer them options. They'll feel like they have input and it will certainly get them excited. -J.H.
Elementary School (ages 6-8)
Time: Ninety minutes to two hours is appropriate at this age, when many kids have parties outside the home. -J.M.
The guest list: The number of guests won't overwhelm your child so decide based on the capacity of the party location. Families often opt for two parties: one for family and one for friends and classmates. -J.H.
Fun and games: Places like museums and skating rinks are great because the entertainment is built in. Or the party can be held at your child's karate or dance school and the children can take a class together, and then enjoy food and cake. -J.M.
Food: A make-your-own sandwich buffet makes the food experience fun and saves the cost of catering. -L.K.
Goody bags: Burn a CD of music that matches the theme of the party. -J.M.
Capture the moment: Children typically won't have any problem playing it up for the cameras so ask them fun, silly questions on camera and make sure to get a group photo to remember the day. -J.H.
The cake: Stick with your child's tradition but change it a little with sparkling, numbered, or unique candles. -J.H.
Tweens (ages 10-12)
Time: Two to three hours is ideal. -J.M.
The guest list: Consider the space in which you are entertaining and then overestimate that amount. There tends to be a little wiggle room with RSVPs and you should expect last-minute additions as well. -J.H.
Fun and games: Children want to feel grown up, so do a makeover party, a sleepover with an activity, or a baseball game. -L.K.
Food: Cook your child's favorite meal or have your child's favorite ethnic foods delivered. -J.M.
Goody bags: Try unexpected things like a bag of microwaveable popcorn with soda and candy for a backyard movie-theme party or a jar of chocolate syrup and one topping with a label that reads, "After Party Indulgence." -J.H.
Capture the moment: Give each child a disposable camera and let them take as many pictures as they want. It's fun for them and you'll end up with some great shots. -J.M.
The cake: You can make the cake the centerpiece of the party or get a cake that ties into the theme. -L.K.
Teenagers (ages 13-18)
Time: Between three and four hours, depending on the activity and how big the party is. -J.M.
The guest list: Expect 20 or more children, unless you are hosting a destination birthday party in which case your child should invite one or two friends. -J.H.
Fun and games: Teens want to feel cool so choose a place with a lounge-like atmosphere. A dance instructor can teach the group some moves. -L.K.
Food: Serve fried chicken and easy to eat pastas, and a sundae or a smoothie bar with virgin cocktails. -L.K.
Goody bags: Gift cards like $5 for Starbucks are the perfect fit. -J.H.
Capture the moment: Documentary style works well, so videotape the scene before the guests arrive, a few moments of your child getting ready, and some candid moments with friends. -J.H.
The cake: Simply cut the cake and pass it out or, if your child can handle the attention, have a few friends carry out the cake and sing. -J.H.