Even if your child doesn't have allergies, chances are at least one of his friends suffers. Lori Sandler, founder of the allergen-free Divvies Bakery and author of The Divvies Bakery Cookbook, offers parents tips on how to throw an inclusive, safe, and fun birthday party for all guests.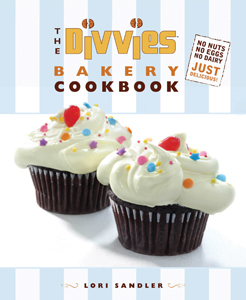 When Lori Sandler's son Benjamin turned 1, their celebration was rather untraditional: "I piled shaved ice into a mound, put a candle on top, and that was his 'cake,'" Sandler recalls. Benjamin was born with life-threatening food allergies to dairy, nuts, and eggs - and when his mom found it impossible to concoct an edible dessert without essential ingredients like eggs or butter that year, she decided to play it safe. Hence, his birthday...icee!
For Benjamin's second birthday, Sandler scoured the Internet until she found a cake recipe that included only safe ingredients. "It was like rubber," she says. "Benjamin ate it because he didn't know any different, but none of his friends wanted it."
And by the time he was 3 or 4, Benjamin began to feel secluded at his peers' birthday parties. "He had to sit at the corner of the table so he didn't have any milk on either side of him, because his food allergies are so serious," Sandler says. She figured there must be some way to create a confection that he and his friends would like. "I wanted Benjamin to walk into a room with something everyone else would want."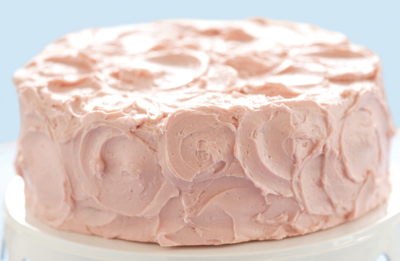 Divvies' vanilla layer cake with raspberry cream frosting is a delicious birthday cake option that's also safe for dairy, nut, and egg allergy sufferers. The recipe is available in The Divvies Bakery Cookbook.
What began with a simple chocolate chip cookie recipe blossomed into Divvies Bakery, a dairy-free, nut-free, egg-free gourmet bakeshop Sandler opened in South Salem in 2005. And this August, Sandler published The Divvies Bakery Cookbook, which is stocked with more than 60 of her most delectable recipes, from dairy-free fudge to Divvies Famous Chocolate Cupcakes. And, of course, a special section of the book is reserved for birthday party treats. "I categorized everything by times of your life, because when you have food allergies, it's all about what the moment is," Sandler explains. "Eating and celebrating should be a shared, inclusive experience that connects friends and family - no one should feel isolated."
Below, Sandler offers her tips for hosting an allergy-friendly birthday party. (Don't forget: Take all precautions, then let kids be kids, and have fun!)
Be proactive.
With the rising prevalence of food allergies in our country - more than 12 million Americans have food allergies, and the incidence is highest in young children, according to the Food Allergy & Anaphylaxis Network (FAAN) - there's a good chance at least one of your child's guests is going to have a food allergy. Be aware of this fact, and accept your duty to host a safe party for everyone. Ask invitees about specific food allergies so you can start preparing early. "I've gotten calls before the invitations were sent out saying, 'We're having a party and we want Benjamin to come,'" Sandler says, adding that a heads-up about the party's menu is always appreciated. "I've always been grateful and asked what I can do to help."
Accept help.
Welcome help from other parents that will lighten your workload. Sandler encourages moms of children with food allergies to send their child with a special, allergen-free treat, but stresses that it should still feel inclusive. "I always bring enough for everybody, not just Benjamin's cupcake," she explains. "But you don't want to outshine the birthday cake. Bring something small but special that complements the cake." If you're hosting, ask guests to bring an easy and shareable dish like chocolate-dipped strawberries or marshmallows.
Be honest.
If you don't feel comfortable having a child with allergies left at your party without adult supervision, don't be afraid to voice your discomfort. It can be stressful to take responsibility for all the children at your party, especially if you have a large guest list. If you think you need extra support in ensuring the safety of a child with food allergies, ask his parent or babysitter to stay and keep an eye on him. "As a mom of a kid with food allergies, I remember how scared and nervous I was at first," Sandler says. "If other people feel that way, I totally respect that."
Mind the medications.
When a child with food allergies arrives, collect his EpiPen®, Benadryl, and any other medications and keep them in a safe, accessible location. If he's old enough, show him exactly where his medications are so you'll both be prepared in the event of an emergency. If you don't feel comfortable with the possibility of having to administer an EpiPen®, make sure there is an adult at the party who does.
Be discreet.
When the guests arrive, pull the child with allergies aside in a comfortable way. "I greet her and say, 'I'm so glad you're here. I want you to know that your mom and I have spoken, I know what your food allergies are, and there are plenty of foods here that are safe for you. If there's anything you need or want, please come to me,'" Sandler says. "This gives the child a sense of safety and control. She knows there's somebody there in charge who's truly looking out for her."
Keep track of snacks.
Keep in mind that finger foods, like big bowls of chips and pretzels, invite cross contamination. For example, if a child who has just delved into the nearby cheese doodles takes a stab at the chips without wiping his hands, those chips have now become contaminated for a child with dairy allergies. To avoid this dangerous situation, plan ahead of time, Sandler says, and set up a separate bowl of goodies for the child(ren) with allergies.
Sync timing and presentation.
If a child has his own meal or dessert, make sure it looks just as special as everyone else's - don't make it a second-rate version. For example, Sandler says, you can put curling ribbon around the child's special platter of chocolate-dipped marshmallows or give him a special goodie bag with triple the amount of lollipops to replace the candy bars he can't have. Also, try to time all the food to come out at the same time. "You never want kids to feel like an afterthought," Sandler says.
Be respectful.
Remember that kids with food allergies are individuals, and each family is unique. Every family handles a lifestyle with food allergies differently. Keep an open mind, and try to do all you can to create a safe haven. "You have to be sensitive," Sandler says. "Some kids get embarrassed, some are oblivious. You really need to take everything on a case-by-case basis."
For more information on Divvies Bakery and The Divvies Bakery Cookbook, visit www.divvies.com.

Find Kids' Birthday Party Resources in your area, including party venues, caterers, entertainers, and more.