If you're among the many women who have come to dread swimsuit season and its skimpy options, check out this season's more modest options that have every body type covered.
Waves, sand, and beach towels await us, but despite the enjoyment warm weather brings, many women have come to dread the bathing suit or suffer from what Sara Blakely of Spanx calls SSD or Swimsuit Stress Disorder. This season, though, there are wonderful options available to compliment (or conceal) your body.
Skirting the Shore - A bathing suit skirt is the perfect addition to your beach-going outfit. Not only does it serve as a pre- and post-sun cover-up, it does just that: cover one's thighs and bottom if you want a more conservative look. Try the Garnet Hill Signature Skirted Swim Bottom in Brown/Turquoise Vine available online at GarnetHill.com for $40.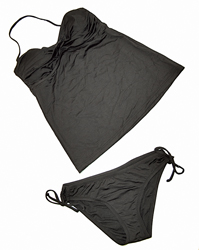 Give Tanks for Tubini - Becoming more popular this season is the tubini, a variation of the popular tankini. Some come with removable straps, but all serve to cover the tummy and meet the top of bathing suit bottoms. It's like a one-piece but without the frustration of having to fight to get the suit back on after a visit to the ladies' room. These suits are perfect for moms who are nursing and don't want to struggle with straps. Check out Target stores or Target.com for tubinis. The Mossimo® Black line has the Twist Swim Tubini for about $20.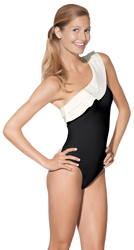 Let's Give SPANX® - The company that revolutionized women's undergarments has created a swim line using its ThinnovationTM in slimming and figure flattering suits. The no-squeeze leg openings still offer a secure fit without constricting the thighs and the compression liner is a powerful yet comfortable tummy shaper. The line offers a number of bra options - underwire, removable cups, and soft molded cups. These suits not only tuck without discomfort, but they are also fashion-forward with ruffles, made of premium Italian jersey in a variety of colors. Try the One-Shoulder One Piece in either all black or black and brown with a white ruffle detail across the top and on the shoulder strap for about $178, available online at Spanx.com or at Saks Fifth Avenue, Bloomingdale's, and Lord and Taylor.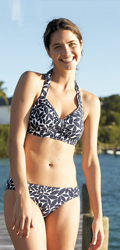 Not-So-Bitty Bikinis - If you've got it, by all means flaunt it. There are a great many bikinis on the market appropriate for some fun at the beach that won't make you feel like you're on spring break in south Florida. Tasteful, with adequate coverage and support, bikinis are perfect for moms who have returned to their "before I had kids" bodies. Show off your hard work in one of Lands' End's Loop Sweetheart Bikini Swim tops and Ruched Bikini Swim bottoms starting at about $45 in a variety of colors, patterns, and sizes including tall, petite, plus size, with an option even for those who have had a mastectomy. Suits are available in stores and online at LandsEnd.com.
Gotcha Covered - There are tons of options for cover-ups this season. From tunics to dresses and even rompers, the possibilities are endless. Choose something light and airy that can easily be cleaned and cared for. Considering there aren't many places in a bathing suit to carry money or keys, keep your eyes out for dresses and skirts that have pockets. Complete your look with a great sun hat, flip-flops and a beach bag that can't be hurt by sun, sand, and your child's water gun.
Considering that many will be playing in the sand and pool with the little (and big) ones, expect a bit more wear and tear on your suit. To help suits last, be mindful of sitting on rough pool decks that may pill the seat area. Rinse suits in clean water after a day at the lake, beach, or pool - sunscreen, chlorine, and salt can really take a toll on the life of swimwear. To prevent suit straps from stretching out, lay suits flat to dry instead of hanging them and never put suits in the dryer. Most importantly, no matter which suit you choose, show off your smile (and wear some sunscreen).