There are many petty annoyances of pregnancy — odd cramps, strange cravings, grossly distended body parts. For
Claudia Weber
, one of the indignities was the inability to keep her pants up. Some maternity pants and skirts sat under her growing belly, and slid down; others, designed to cover the entire belly, also suffered from downward creep. So she invented a sort of underwear suspender, called
Bottoms Up
.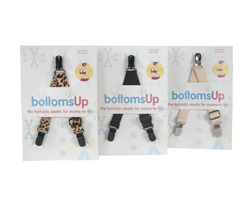 The elastic straps, designed to clip to the top of your bottoms, and the side of your bra, are made from a stretchy, non-irritating material that is comfortable next to the skin.


Weber, who worked in marketing and public relations before having her daughter, Chloe, knows the power of a good name, so she christened her company Cheeky Designs. When she was pregnant, and didn't know the sex of the baby, she referred to it as 'cheeky'.

Weber, who lives in Brooklyn Heights with her family, has enlisted both family and friends in her burgeoning company. Her husband, Tony, an Internet consultant, handled website development, and 2-year-old Chloe helps sort products and throw away trash.

While Bottoms Up are designed to not be seen, they come in a variety of fun prints so women can express their inner animal fantasies. There are leopard, cheetah and python patterns, along with basic black.

Bottoms Up are $24 at local kids' stores: Pizzazz Kids, Ola Baby and Heights Kids; you can also purchase at the website, www.getbottomsup.com.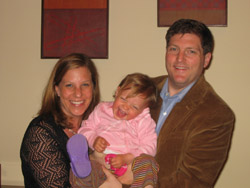 Brooklyn Heights' Claudia Weber, with husband Tony and daughter Chloe