If your child can cite the on-base percentage of every player on the Yankees or whiles away more time than you would like playing Madden NFL on Xbox, have no fear. Research shows that sports interest may help children grow academically and socially.
Whether or not your child is the athletic type, many kids are consumed with following their favorite sports teams, like the Super Bowl Champion Giants, or athletic stars, like those who are representing Team U.S.A. during the 2012 London Olympics on TV. Others play sports-related video games or have fantasy baseball teams whose rosters they update religiously.
For many parents who would like their children to focus on schoolwork instead, these brushes with sports seem like wasted time. How will children who would rather memorize the Yankees' pitching rotation compete with those who prefer to tear through the entire recommended summer reading list from the local library?
Fear not, says pediatric neuropsychologist Kimberly Williams, who has private offices in Long Island and Brooklyn. "All children are academically motivated by varying life experiences, such as their relationship with parents, peers, educational experiences, and extracurricular involvement," Williams says. "While there is no direct correlation between specific sports and an increased interest in math, science, or other subjects, sports activities can certainly help."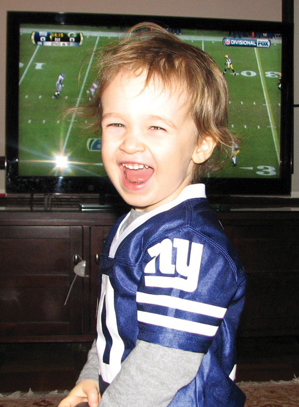 Sports Appreciation Can Encourage Social Skills Development
Nancy Guberti of Westchester County has certainly seen sports positively influence her sons, who are now in high school. Michael, her oldest son, had always been reserved in public settings but came alive watching sports on ESPN. Using the information he learned from the sports network made him more comfortable speaking about sports. After conquering that realm, his confidence speaking to large groups grew.
To work on his public speaking skills, which Nancy Guberti thought would be a boon in the business world, Michael builds PowerPoint presentations analyzing different baseball teams and presents them to some of his teachers and classmates during consultation times at his school.
"You need confidence to take the first step in accomplishing your dreams," Nancy Guberti says. "He feels bold, brave, and confident after each presentation. For shy, reserved kids, this is a great way to have them create lasting bonds with students, peers, and teachers."
Marc, Guberti's younger son, writes blogs about the Boston Red Sox, his favorite team, and has taught himself how to use Twitter and Facebook to promote his stories. Guberti loves that sports are giving him the opportunity to improve his writing, and she views social media as a healthy outlet instead of as a venue for gossiping or bullying.
Sports Fans Can Benefit Academically, Too
Baseball can help younger children understand a variety of math and science concepts, too. "Kids can learn simple formulas to predict batting averages, assess base runs, or measure how well a player steals the bases," Williams says.
There are simple aspects of physics such as height, distance, speed, and velocity that are apparent in baseball as well as sports like soccer, golf, tennis, and track and field. Numerous sports-related word problems that work with skills including addition, subtraction, multiplication, and division are also common in math classes. Teachers may use baseball for real-life examples when it comes to algebraic equations and statistics, too.
For children who are interested in playing sports and not just watching them, parents can use their desire to be part of a team to motivate them to excel. Although many high schools require certain grade-point averages for their students to compete in athletics, parents can utilize this technique even earlier.
"Research indicates that children who play sports are confident in themselves, are more comfortable with constructive criticism, and work well in groups," Williams says. "Feeling good about oneself and being well received by peers also improves the desire to be in school and enhances academic performance."
This shouldn't surprise most parents. Athletes are constantly put in positions where they have to learn new skills. Each time athletes master one skill, they move on to conquer another, internalizing that they can succeed outside their comfort zone. While students are acquiring new skills, coaches use constructive criticism to help them improve their performance. This makes it easier for teachers to use similar techniques successfully in a classroom setting.
And, in some cases, when children struggle to master academic skills, parents can point to the athletes the child admires to show how failure—and recovering from failure—made them successful. Many adults will remember that Michael Jordan, one of history's best basketball players, was cut from his varsity basketball team as a sophomore, being sent to the junior varsity ranks. They will also recall his unsuccessful attempt at a professional baseball career. That oft-cited example may be overused, but a little research into your kid's favorite team will likely result in examples closer to home that he or she can relate to.
Sports Interest Helps Kids In All Aspects Of Their Lives
The relationship between sports and academia isn't only tangential. Sports, or any physical activity, allow kids to burn off pent-up energy, Williams says. Those who have a hard time paying attention in class or focusing on their work once they're home may simply need sports to help them unwind.
Physical activity also increases blood flow to the brain, enhancing memory and concentration. This may help children improve executive functioning skills like processing speed and visual and verbal working memory because sports require children to react quickly and execute actions under pressure.
"Sports enhance one's ability to simultaneously organize multiple forms of information to make the best decision," Williams says. "This builds conceptual thinking skills, which are imperative to math, science, and other areas."
Whether your child is a sports enthusiast who prefers to cheer from the sidelines or a jock who switches up her interests from one season to the next, captain of her field hockey team, or a soccer player who plays just for the fun of it, involvement can have many positive effects. Delve into your kids' interests for unique bonding time (or, in the case of parent-child video game battles, to bone up on your hand-eye coordination).