Kids of Courage, a Long Island-based nonprofit organization, took more than 100 local children, all either chronically ill or with severe special needs, on a nine-day summer vacation to San Francisco.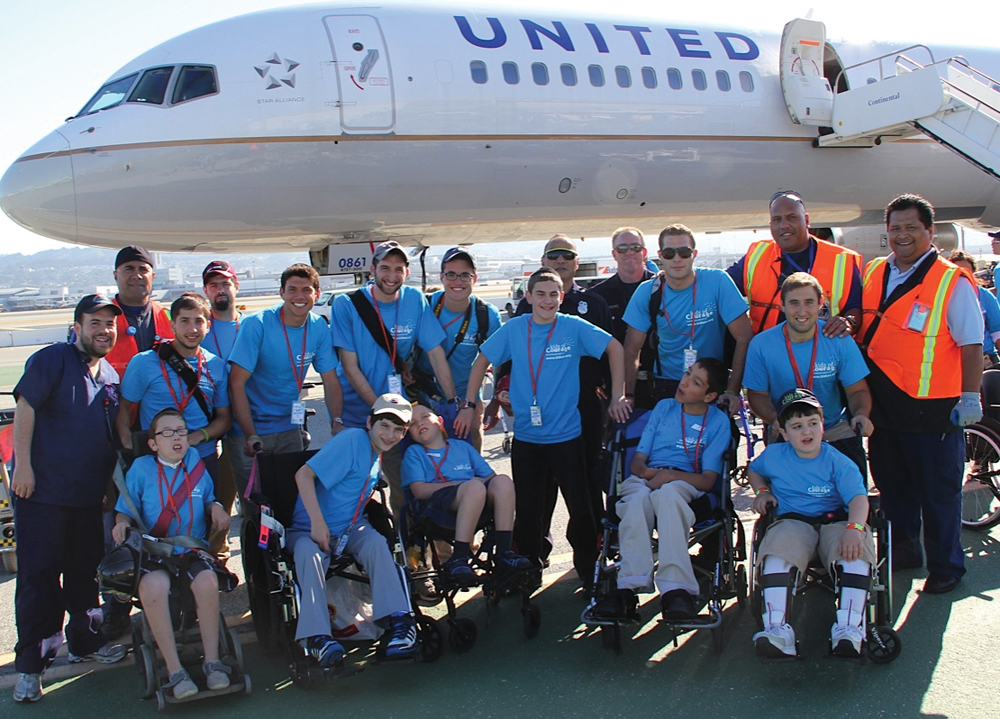 Kids of Courage volunteers, campers, and San Francisco International Airport crew at the arrival on August 16.
On August 16, 150 kids and young adults boarded a chartered flight out of Newark Liberty International Airport, bound for a nine-day adventure in San Francisco. For many, it was the first time they'd left their families or really traveled at all. For some, it may have been their last chance. All 150 had been chosen by Kids of Courage, a nonprofit organization based on Long Island, to attend its annual Summer Adventure Camp for chronically ill children.
Kids of Courage, an all-volunteer organization dedicated to improving the lives of children and young adults with serious medical diagnoses, was founded three years ago by locals Ari Adlerstein (director), Stuart Ditchek, M.D. (medical director), and Howard Kafka (CEO). The company brings together chronically ill kids from the New York City area and across the world for year-round events, weekend trips, and larger adventure programs-all of which are offered at no cost to the children or their families. This summer's trip was the largest the group has ever organized.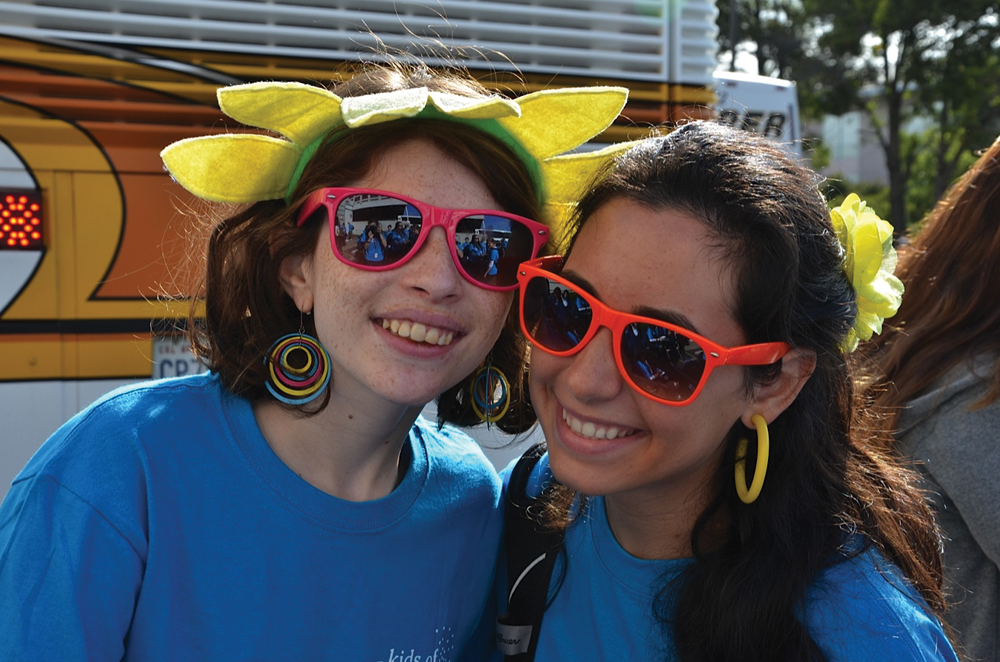 About half of the children were from the New York metro area, as were most of the counselors and doctors. With a ratio of about three staff members to every one child, the total head count climbed to about 500 travelers. Among them were Raphael Greenfield, 14, of Rockland County, who was born with a rare, undiagnosed genetic disorder that left him with virtually no face, no ears, and a very small airway. He has a tracheotomy to assist his breathing and cochlear implants to help him hear. Another traveler was Izzy Possik, a 20-year-old Long Island resident who suffers from epidermolysis bullosa, a very rare genetic disorder that causes sloughing of skin and severe contractures of all extremities. Other campers suffered from disorders like muscular dystrophy, spina bifida, cerebral palsy, and acute leukemia.
Because each child had severe medical needs-37 required in-flight oxygen, among other accommodations-they were accompanied by more than twice their number of medical staff and trained counselors. "This was the largest group we have ever traveled with, and many were the sickest and most disabled kids we serve," says Dr. Ditchek, a Brooklyn dad of five, who says Kids of Courage's staff has the most experience with medically supervised travel of any group in the world. Throughout the nine-day trip, staff members distributed about 1,200 doses of medicine per day (not including emergency medications)-an amount equivalent to the daily distribution at two children's hospitals.
Once they arrived in San Francisco, the group packed in trips to Six Flags Great Adventure, Raging Waters (California's largest water park), Alcatraz Island, California's Great America, the Exploratorium museum, and an Oakland A's game.
"It's a chance for them to see the world in a way they've never seen it before," Dr. Ditchek explains. "We want to normalize their lives through travel and help create normal social networks for kids that struggle with these issues. These kids don't always have regular friends or participate in regular activities because they spend so much time in the hospital or at home."
Adlerstein agrees. "If a kid is having a tough day in mid-December, he can call up a kid from the trip and talk, and he'll have the next trip to look forward to. These trips give them the courage to live throughout the year." He also stresses that these trips serve the dual purpose of providing a respite for the children's parents. "It takes a lot of work to care for these children. A lot of these kids have never left their homes before, so these families don't get vacation time," he explains. "During these trips, they can take time, focus on their families and their spouses, and enjoy some well deserved down time."
For Adlerstein, an especially memorable moment from the trip came during the group's "talent show" on the last night, when many of the kids took to the stage to sing, perform, or just say a few words. Adlerstein remembers the bravery of one participant who got up to read a poem he wrote, despite his severe stutter. "It took him quite a while to get through those four lines, but he felt comfortable because he knew we all understood," Adlerstein says. "It meant the world to me for these kids to feel so comfortable in their own skin."
Ditchek remembers another special moment at the airport in San Francisco, when a camper in a wheelchair accidentally bumped into a woman carrying an expensive bottle of wine she'd just purchased, which smashed to the floor. Ditchek offered to buy her another bottle, but the woman refused, saying it was a blessing to be introduced to such a beautiful child in that way. "That's what it's all about," Ditchek says. "We choose travel because we want these kids to see the world, but we also want the world to see them."
For more information on Kids of Courage, including volunteer applications and how to make a donation, visit www.kidsoc.org.