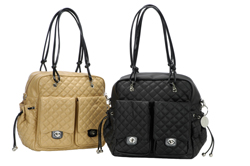 There is a progression that young married couples often have; they get a dog, then decide to have a kid. Olivia Ma Corwin has made a similar leap with her business, Liv & Co.The designer started out making dog clothes and bags to carry small pets, and has now branched out into making diaper bags, onesies and accessories for babies — at the same time that she is having her first child.
   The luxurious, fashionable diaper bags are made from leather, canvas, fake leather and patent leather.They look great, but are also designed with functionality in mind. The bags are lined in water-resistant nylon, good for soggy baby clothes or bottles, and have removable shoulder and stroller straps, giving mom more options. Each includes a matching changing pad, lots of pockets, and a detachable coin purse (which can double as an evening clutch).
   The quilted Amelie bag, in faux leather ($126 in black or camel), also comes in a deluxe version, black patent leather, for $178.50.At the high end, the Posh City Tote, $567, is made from rich lambskin with patent leather trim. The bag would be right at home in Chelsea, where Corwin lives, or anywhere mom wants a super-stylish bag to tote her baby's essentials.
   The new clothing line includes the sweet outfits that aunts and uncles often pick up for their nieces: tiny crocheted dresses, smocked pants, and ruched leggings. The soft baby blankets would look great tucked around an infant in his stroller.
Corwin plans to further expand the company to include vintage-inspired organic bedding.
Liv & Co. diaper bags and clothes are available at Coquette Kidswear, Z Baby Company, and Pumpkin, or at www.livandco.com.