Four high school student-athletes in the New York City area won scholarships in recognition of their leadership and ability to make the game better.

At a November 3 event at Fordham University, the Positive Coaching Alliance (PCA) named four New York City-area high school student-athletes as winners of the PCA Triple-Impact Competitor® Scholarships, presented by Deloitte LLP and Thrive Foundation for Youth. The winners were as follows:
David Engel of Westhill High School (Stamford, CT)
Edward Hunt of Shelton High School (Shelton, CT)
Simona Levsky of Leonia High School (Leonia, NJ)
Kelly Anne Sherlock of Cold Spring Harbor High School (Huntington, NY)

Each student, chosen from 26 finalists from NYC, New Jersey, and Connecticut, received a $1,000 college scholarship for exemplifying PCA's model of the Triple-Impact Competitor, which the organization describes as someone who has personal mastery (a drive to make oneself better), leadership skills (the ability to make one's teammates better), and honors the game they play, making the game itself better.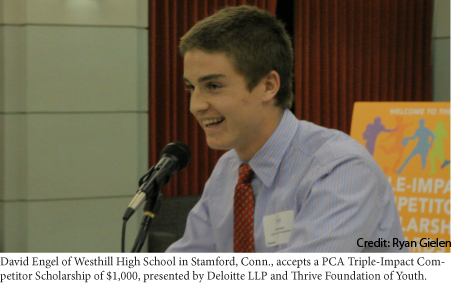 Tina Syer, PCA's chief impact officer who leads the scholarship program, took a moment to thank the parents and coaches who have supported these student-athletes along the way. "Most of all, we thank the student-athletes themselves, who are nothing short of inspirational," Syer said.
Founded as a nonprofit within the Stanford University Athletic Department in 1998, PCA is committed to providing all youth and high school athletes with a positive, character-building sports experience. Through nationwide workshops and companion online courses, PCA has reached more than four million youth to date.
For more information on PCA programs and awards, including the Double-Goal Coach award and Second-Goal Parent award, visit www.positivecoach.org.