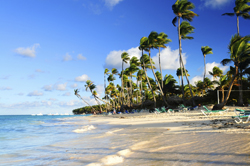 When Club Med hit the scene 40 years ago, its sole emphasis was on fun.But before long, the swinging singles resorts soon spun off a more grown-up version, a family resort.Over the years, these family Club Meds have added kids clubs, baby clubs and teen clubs.Now, Club Med Punta Cana has all this and more – an embrace of luxury that adds a new level of sophistication and comfort, while still retaining all the fun.
Last year, the club was shuttered and all the rooms were redone, with opulent new bedding and bathroom fixtures, flat screen TVs, and a totally redesigned restaurant and main bar.And new oceanfront family suites have upped the ante even more, with a private infinity edge pool, a concierge and separate, sedate check-in, and expansive rooms tricked out with even more goodies:a soaking tub plus separate glass-enclosed shower, fresh flowers, artwork, soft bathrobes and slippers.These Tiara suites are the culmination of the $34 million renovation.
You can always find something to eat or drink at Club Med, but the Tiara suites also offer room service (included), which means you can have a glass of milk and a plate of fruit waiting when your child wakes up from a nap.And while she's napping the next room, you can catch up at work; each suite comes with a computer and free Internet access.
The suites offer twice daily cleaning, turndown service with chocolates, a stocked mini-bar, and a bar with snacks at the concierge office.Suites have espresso makers, and the concierge also has one; how civilized to come off an early plane ride and have a decent cup of coffee.
You'll also find a decent cup of coffee served with hot milk at the two restaurants.The staggering variety of food includes plenty of fresh fruit and vegetables, local cuisine, including freshly caught fish, and enough to satisfy the most discriminating palate.A welcome new touch is the juicer; you choose from an array of veggies and fruit and get a customized glass of, say, beet tomato cucumber juice.The bar on the beach has also been expanded, with lounges set up so you can look at the water or watch the sun set. You can also get a light meal there.
The Baby Club Med (for kids 4 months-2 years) has parent-child workshops, so new parents can learn alongside their kids.
The children's club, Mini Club Med, for kids 4-10, boasts a new water park, with fountains, sprays and water slides.At the kids club, kids can play tennis or archery, sail, kayak – but if they don't want to be part of a group, they can go on their own.What's really nice is that one of the friendly G.O.s (think camp counselor) is usually hanging around, happy to show you how to skate better, improve your serve, hit the bulls-eye.When my 10-year-old picked up a basketball, a G.O. materialized and started shooting baskets with her.
For teens, the new skate park has ramps and rails.No need to bring your blades; there is a (free) rental area, with skates, helmets and pads.
Throughout the day, there are various fitness activities for adults, from a power walk in the morning to water aerobics in the pool and ocean.Best of all are the classes in the pavilion on the beach, from a step class to sunset yoga.At certain times, there are volleyball or soccer games, but you can also grab a ball and start your own game at any time.The tennis courts are in perfect condition, and there are racquets and balls if you didn't bring your own.
My kids were particularly drawn to the circus, where they soared in the flying trapeze. This is also available for intrepid adults.If you are able to learn how to let go and be caught, you can star in the circus show.Each night features a kids' show and an adults' show, with the multi-talented G.O.s adding a professional flair.
Parents (and teens over 16) can indulge in the new spa, with 10 well-appointed treatment rooms, plus two outdoor treatment areas in open-air palapas.You can hear the waves crash while luxuriating during an Indian or Mediterranean massage, each of which uses different strokes and oils.Alas, if you want a hot stone massage, you have to be inside.One-hour massages are about $125 (they are priced in Dominican pesos).The spa includes an outdoor relaxation lounge with herbal teas, and private pool.Kids 13-16 can book facials, manis or pedis, and suite occupants can have special "VIP" services; there are also scrubs and massages geared towards men, and couples treatments.
About the only downside to the Tiara suites (which command about a 50 percent premium over regular rates) is that a family of five can stay in one only if all the kids are under age 15 (which excludes my family).Because Club Med charges per person based on age, there is no extra charge if you bring a family of five and stay in two rooms.Recession be damned, you could always take two suites if you have a large family.It might be a better investment than a 401K.