Introducing...
Gail Warren, Queens Calendar Editor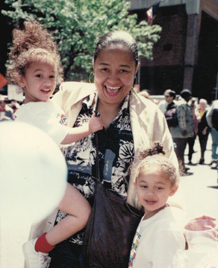 "Ms. Gail," as she's known to the little ones," with
goddaughters Caroline (left) and Kristen Smith (right).
I've tried to deny it and keep it under wraps, but it just doesn't work. After all these years, I admit it: I'm still a big kid at heart. Growing up in a small town in Indiana, I was always exploring, with child-like wonder, looking for fun and eager to experience "everything"! As a child, the idea of not discovering something new and exciting on any given day would literally bring me to tears. Thankfully, my parents knew just how to handle their precocious, adventure-loving child. Their answer was to keep my body and mind occupied, and my curiosity fed all the time. Somehow, I was always engaged in an activity—piano lessons, ballet, swimming, voice lessons, and tennis. My weekends were filled with trips to the local library, The Field Museum of Natural History, The Adler Planetarium, The Art Institute of Chicago, The Brookfield Zoo, sporting events, ethnic fairs and festivals, symphony concerts, theater, and performing arts events. If that weren't enough, my dad even brought me to NYC for cultural events that he and I thought were 'necessary' for my education. Oh the joy of experiencing it all!
As I grew older and moved east to New York City, I really appreciated the exciting multicultural experiences I enjoyed when I was younger and realized how important they were in shaping the person I was becoming. It wasn't long before I began my own one-woman campaign to enrich the lives of the children around me, by giving them an opportunity to enjoy some of the activities I had experienced as a kid. As a result, I began taking my friends' children to local fairs, carnivals, amusement parks, and cultural events. Street fairs, museums, Disney and Dora, Ice Capades, Sesame Street, Barney—if it was a kids' event, I was usually the biggest kid there. Ms. Gail could be counted on to take as many kids as her car would hold and we always had a blast.
Of course, I'm not on the go all the time. And so, sometimes between reading a book and chomping on a bagel, I chuckle at the fun times I've had (and am still having!). Seems I celebrate with every ethnic group who has a parade and I also enjoy a great game of baseball! Who knew that my love of kids and cultural events would eventually lead me to work for a magazine that specializes in providing cutting-edge resources for parents and kids, and a wealth of family-friendly activities in their local Queens community?
Flushing Meadows Park, here I come! Thanks to Queens Parent, I can still be a kid at heart.
Meet all of the NYMetroParents Editors