Introducing...
Kaitlin Ahern, Deputy Editor and Food & Nutrition Editor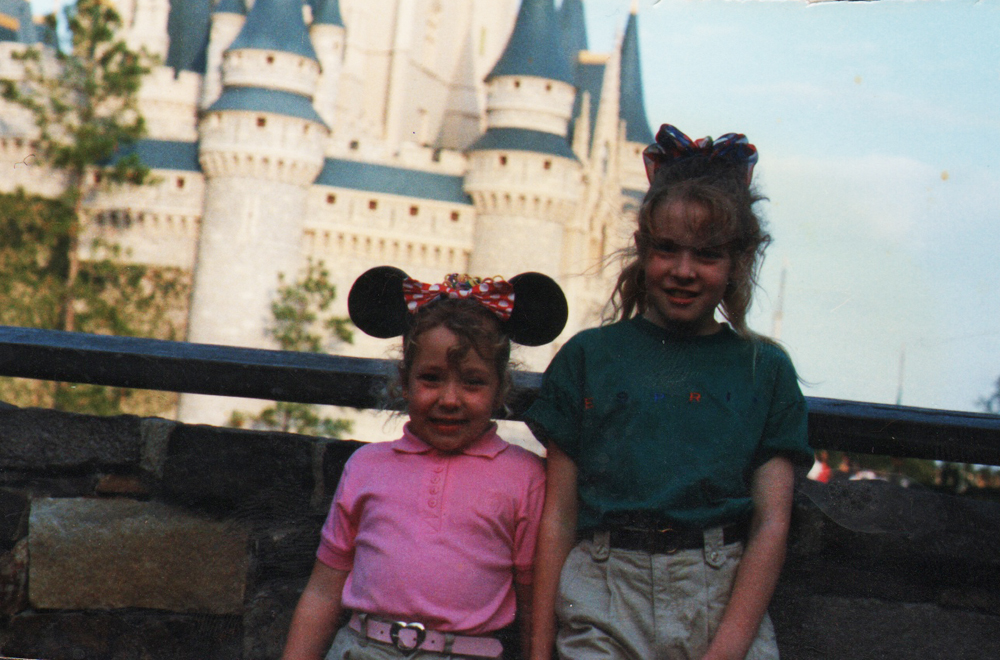 Me (left, in the pink) and my big sister at Disney World, circa 1992 -- though judging from our bows we were having some trouble letting go of the 80s.
I'm not a mom. I'm not even close to being a mom, really.
In the past, I was a sort of mom to several dogs, cats, horses, frogs, and one unfortunate goose named Herby. You could say I'm an animal lover. I grew up riding horses on my aunt's farm in upstate New York. (No, I won't tell you the name of the town because you were once in the Albany-Syracuse vicinity and you think you might remember a few towns around there. You don't know my town. No one does.) You could say I was a country girl. When I was little, there was a lot of running around barefoot, riding around on tractors, and begging for civilized things like cable TV and video games (the latter pastime being completely fruitless—something I'm rather glad about just a few short decades later).

Early 90s again: Me (on the horse) and my beautiful mom, who would probably kill me if she knew I'd dusted off and shared this picture of her sporting the semi-mullet.
When I was 17 and applying to college, my mom passed away from pancreatic cancer. You could say it turned my world upside down, but that wouldn't quite cover it. If you've ever lost a parent, you probably know how it feels—like you've lost an anchor, like the world doesn't quite make sense the way you thought it did. That's when you realize that the word "parent" is actually an umbrella term -- for mentor, coach, cheerleader, advocate, confidant, friend.
When I graduated from high school (no, you've never heard of my school, either), I went to Syracuse University (which you might have heard of) to study broadcast journalism. Well, that was the plan, anyway. Four years later, after learning a few useful things like how to throw yourself down a snow-covered mountain while balancing on two planks made mostly of plastic and weaving between little red and blue flags (read: ski racing), how to be spontaneous but not too reckless (see: small tattoo), and how to write a decent article (thanks, Professor Glavin)—I graduated with bachelor's degrees in magazine journalism and psychology and moved to New York City. You could say life has been pretty exciting/confusing/terrifying/wonderful ever since.
So, that's the truth. I'm not a mom, and I'm not even a native New Yorker. But after a few years here, I've learned a lot about both city life and parenting. Instead of running around barefoot, I've learned how to wear flats with every outfit (because, let's face it, in the battle of heels vs. concrete, concrete always wins). Instead of riding horses and tractors, I ride the subway. You could say I'm not quite a country girl anymore (OK, so I have a Zac Brown Band station on my Pandora Radio—some habits never die).
I've also come to realize, by writing for and talking to parents, that being a parent is pretty amazing and extremely difficult at the same time—something that's made me appreciate my own parents much more. My dad ran marathons, put himself through college working as a security guard, and then, when he ended up with two little blonde-haired, horse-loving girls, he became a big softie (he still is). My mom worked for the Red Cross, took time off from her career to raise her two daughters, and then, in her mid-40s, went back to school. You could say I owe them everything. And when I become a mom one day—to something other than a dog or frog—I hope my kids think I'm incredibly uncool and hopelessly romantic, just like them.
Meet all of the NYMetroParents Editors