A Brooklyn dad of two tells how his dual-faith household celebrates both Christmas and Hanukkah.
Hanumas (Hanukkah + Christmas = Hanumas) is alive and well at my house. The union between this Brooklyn Jew and a wife with Pennsylvania Quaker roots has resulted in a Christmas tree with a Star of David on top. The spiritual aspect of the holidays, while confused and compromised between my wife Sarah and me, is completely obscured for my two children, Russell, 10, and Charlotte, 3. "Gimme Gimme Gimme" they chant, while Mom and Dad swing to Sinatra crooning "Walking in a Winter Wonderland," eggnog flowing through addled veins. "What is the true meaning of Christmas, of Hanukkah?" I ask, as they stare back with glowing red eyes like child demons from a Stephen King novel -- Children of the Corn, perhaps.

Russell doesn't stop with the "Gimme Gimme Gimme" refrain for a nanosecond. I keep him at bay, rewarding him with a weekly allowance for being a good kid, and I throw him a bone now and again, usually by way of a game for his video mind-warping device (aka, Nintendo 3DS). But this year he has decided to play tennis --real, not virtual -- and will be receiving a Wilson Blade BLX Jr. tennis racket ($79.95). His next two requests were a bit arcane, but not totally out of left field. A serious comic book fan and budding artist, he's requested a book: "MAD's Greatest Artists: Sergio Aragones: Five Decades of His Finest Works" ($29.95), a compendium of work by the famed MAD magazine cartoonist. Russell has also become aware of posters and asked for one of his favorite comic character/superhero, Hellboy (it's not as bad as it seems). Allposters.com came through with a nice 40- by 30-inch image of the cigar-chomping good guy.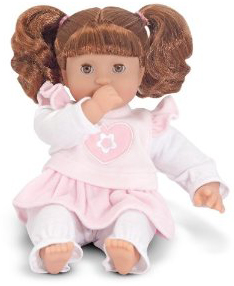 Charlotte, while having become quite aware of her femininity, hasn't fallen for the princess stuff that's so heavily marketed to her naïve and vulnerable demographic. What she wants is a good old-fashioned doll, such as the Brianna from Melisssa and Doug ($19.99), a 12-inch auburn-haired beauty that Charlotte will proudly push down the street in her Cute Baby Doll Stroller by Castle Toy ($18). Look out, world! Lately she's been fascinated by dollhouses and, following a post-Irene trip to Vermont, houses that have been sliced in half. Since beginning pre-school, her dramatic play instincts have also kicked in, and our home will soon become the valley of the dollhouses. The Fisher-Price Loving Family Grand Dollhouse ($75) is three floors of neo-Victorian pink dollhouse splendor (furniture comes separately). When will these dollhouse makers create something mid-century modern?


Mike Bieber, Brooklyn family man and calendar of events editor for the borough
Also see: NYMetroParents' Holiday Bazaar of Traditions, Memories, Insights, and Gifts