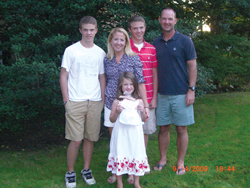 Sure, flowers will always be a common and appreciated gift idea, but Kathy Cruthers of Amityville has a better idea: Why not send flip flops? Flowers die!
In 2005, Cruthers was looking for a way to start her own Internet business to help support her twin sons Liam and Tyler, 17 and daughter Olivia, 6. After years of owning her own children's clothing store in Amityville, she knew that gifts were a huge part of that business. With a goal of earning just an extra $200 a week, she and her sister-in-law set their sights on coming up with an Internet gift business and soon found inspiration in observing the one item that everyone - even Britney Spears and Jennifer Aniston - was wearing: flip flops.
"Getting flip flops on your doorstep is the coolest thing," she says. "Pajama-grams were out there; when I don't know what to buy someone, I buy pajamas. And so many people wear flip flops. It's easy to buy them if you know their size." So the idea to send a FlipFlopOgram was born, complete with unique packaging consisting of nail polish, a pedi paddle, note card and gift wrap.
The two women started a website, www.flipflopogram.com, where orders come in from customers as far away as Florida and California. Cruthers now runs the business on her own, and also throws "Flip Flop Parties" all over Long Island.
Why start your own business again?
My focus was always to be a mother first and a worker second. I never kind of lost that entrepreneurial spirit or wackiness that it takes to do it. I knew I wanted to do it again. I missed the contact with the people and the creativity.
How did you get started finding flip flops to sell?
I sat for weeks until 3 o'clock in the morning; googling sandals, women's flip flops, thongs; watching to see what came up from wholesalers. So we had all these shoes. My neighbor suggested we have a party. We ended up with 96 people that night and made $4,000 in sales. In the next couple of days, people were calling, asking if we did parties. It's history; now I' m doing 2-3 parties a week.
What kind of investment does it take to start an Internet business like this?
We really took baby steps. We went to the Small Business Administration and had our $10,000 to invest and got interest-free credit cards. We were so good about it; we started to know what to get from parties; to charge the stock, pay it back right away. For the first year, we had no debt. We were very conservative and very careful. It was amazing but it took a lot of self control!
What do you think sets you apart?
I'm doing a business that no one's ever done before. I bring hundreds of shoes, and it draws people to the website. I make sure that I have the right price. For the most part, my prices are really competitive. Hopefully, it's the customer service and the packing all the little things that go into it, and the turnaround time.
What are some tips for other moms who are thinking of starting their own business?
Always think outside the box. I'm a big advocate of parties. Keep your risks low, but take risks. Go make money while you're getting your name out there. At the same time it's got to be something you love.
What are some pitfalls?
It's trying to be everything to everybody. You have to stay focused on what your product is. Try not t o get away from why you started the business.
How do you juggle work and family life?
My primary thing is them, but I have two boys going to college in a year. I have college tuition (to pay). If you think you're going into a business to not work, you're wrong. If you think you're your own boss, you're wrong. Customers will dictate your hours and family will dictate your hours. Is dinner on the table a little late? Yes. There are also really slow days, when I'm all there. For the most part, I can get to lacrosse games, get the kids to school, and work while they're sleeping. And be up for three hours a night.
What are some personality traits you possess that have helped your success?
Talk to people the way you want them to talk to you. It's not telling them what they want to hear, but be real. I've been lucky enough to sell what I like. ... . I think that there's a level of honesty that I hope comes through that makes me credible. I can walk in and really sell at a party.
For more information, visit www.flipflopogram.com.