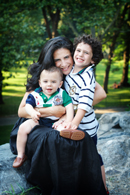 After having her first child, Lyss Stern realized that while there were so many places just for kids, there wasn't anything for moms who wanted to look and feel fabulous. So in 2004, Stern launched Divalysscious Moms, a luxury lifestyle company that offers premiere events for its more than 55,000 members throughout the city. A contributing writer and lifestyle correspondent, Lyss is also the co-author of If You Give a Mom a Martini…100 Ways to Find 10 Blissful Minutes for Yourself.

Quick stats:
Married for eight years to Brian, Lyss has two sons: Jackson, 5, and Oliver, 2

Before Divalysscious Moms, what were you doing?
I was working in publicity when I decided I wanted to go back to school to become a teacher. So I got a second Masters in education and I taught for six and a half years at a private school.

Were you always a "diva?"
Always! The night before I was going to be induced, I got my hair blown out. There's no reason why you can't get your nails done, exercise, and be fabulous when you're pregnant or a mom. There are so many definitions of what a diva is, but mine is a feeling: it's being colorful and the best that you can be.

What makes Divalysscious Moms so unique?
All of the events are different. There are movie screenings, restaurant and show openings, and nutrition, fitness, and beauty events. We bring the best of the best — sometimes before these places even open — directly to our moms.

You've said in the past, "Children are only as happy as their moms. If the moms are not happy the kids are not happy." Is this your motto?
Yes, and that is the reason I believe so strongly in everything that I do. In my book, we tell moms to take time to do a yoga pose, take a bubble bath, or just breathe.

Do you think society dictates that once you're a mom, you have to throw on your mom jeans and call it quits?
I think, unfortunately, society has done that and that's why we're saying, "No, you don't have to be a stay-at-home mom and take care of your children 24/7." You're still allowed to work, look great, and do all these fun things. I always say you need to have balance in your life; finding that balance is really hard but it's important.

Tell me what your favorite ways are for finding "10 Blissful Minutes."
Shopping in your closet, getting rid of your old 'grandma panties,' and even having a quickie with your husband, but my all-time favorite is taking a bubble bath when the kids are asleep, lighting a candle and closing my eyes.

What is the key to your success?
Listening to my heart and my thoughts. When I started, there were people who doubted me but I knew that I had something and I had to go for it.

What are your plans for the future?
We hope to expand globally. There will hopefully be more books and there's also a TV show in the works.