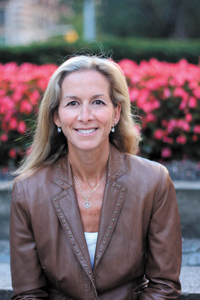 Quick stats: Katie lives in Manhattan, has been married for 17 years to Steve, and has three children - Jake, 16; Jilly, 14; and Josie, 3.
Just two years ago, Katie Danziger - then a full-time, stay-at-home mom - never imagined she would develop a new problem-solving product for parents that would take the guesswork out of cleanup. Katie hoped to sell her invention to a few friends and close up shop. Yet what started out as a small mishap, turned into an award-winning product and brand called Nomie BabyTM - a cozy, waterproof, removable, and washable car seat cover.
What does 'Nomie' mean?
When my older daughter was small, she couldn't pronounce the word 'cozy' so she said 'nomie' and that name stuck in our family.
How did you come up with the idea?
My youngest child had spilled formula on her car seat and I tried to take the cover off to clean it. It was sort of a wrestling process and when I finally looked at the care instructions, it said, "do not machine wash." I went online to see if there was a bib or something that I could put over it but I couldn't find anything. There were covers, but there were none that were waterproof and I thought that if my daughter spilled something, it would just leak through to the existing cover anyway. I knew I couldn't be the only person having this problem so I decided to make something and sell it to some friends and that would be it. The more I looked into it, and after I told some friends, they said, "I can't believe there isn't anything like that - that would be perfect."
When did the idea turn into a business?
I couldn't find a material that would do everything I wanted it to do. I didn't want it to be plastic, but I wanted it to have the waterproof backing and I wanted it to be cozy. I finally met some people who do fabric sourcing and together we developed three fabrics that achieved what I wanted. Yet because we had to manufacture the fabric in China, we couldn't make just 100 hundred yards, we had to make thousands of yards. So all of a sudden, I realized that if I was really going forward with this, it was going to be a business.
What were your steps along the way?
The first thing I did was talk to a patent and trademark attorney. I then started working on what I wanted the product to look like and do, and decided on packaging. Once I signed off on the prototypes, it took 90 days for it to be made. In the meantime, I worked on building the website and trying to find someone to help me sell it in stores.
Did you encounter roadblocks along the way?
One of the hurdles has been getting people to know what it is so that it can sell itself.
What is the biggest key to your success?
Sticking to two things: making the product affordable and being personally in touch with every single customer who buys it and every single mommy blog and reporter who writes about it. Many times I fulfill the orders myself and write a personal note.
What's one piece of advice for other entrepreneurs?
There will always be mistakes, but if you take your time, your mistakes will be limited.
How do you manage the work/life balance?
It's a lot of juggling but one of the things I've done is to involve my family. My older kids, who are incredibly computer savvy, have helped me develop promotional materials.
For more information about Katie Danziger and Nomie BabyTM, visit www.nomiebaby.com.