Parent, executive chef, hostess, referee, housekeeper: We moms play many roles. On party day, add photographer to the list - but only for part of your day. Arm yourself with our handy list of must-have birthday shots (below, courtesy of Momtographer Krista Njapa), then focus on capturing the highlights of the day before handing your camera off to someone else so you can get in a few pictures with your special girl or boy. Then turn the camera off and remember to experience the moment (or stop the rogue 7-year-old from dive-bombing off the back of your couch!).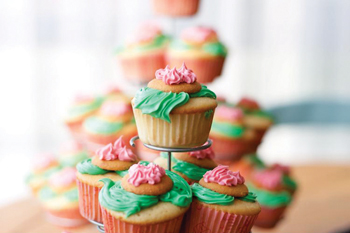 #1: The Cake
It won't move, so you have plenty of time to get the shot right. Play with angles, move around, and take a bunch of snaps until you get that one that makes your heart pitter-patter. Shooting food is fun, and it's all about finding the right angle.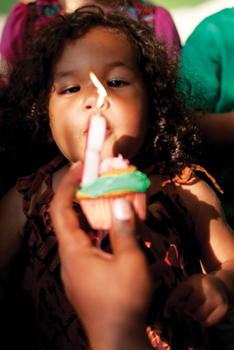 #2: Blowing Out the Candle
Get down to your little one's level so your shot tells the story from her perspective. Try to get a few shots before, during, and after the blowing moment - this can make for a fun series, but more importantly, you don't want to miss the shot that truly catches the wonder of the moment. Advanced tip: If you're using a camera that allows you to choose where you focus, such as a DSLR, try this: Focus on the candle and get your little one, lips puckered, slightly blurred in the background. It's a fun shot that's sure to impress.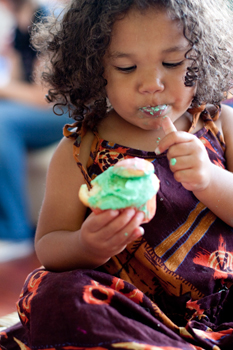 #3: The First Bite
Nothing says "birthday" like a kid covered in frosting, so don't miss it! Get in close when your little guy is diving in. Try to isolate him from the chaos of the rest of the party (i.e., have a wall in the background) so you aren't distracted. Again, it's all about perspective, so get in close to that sugar-covered face, get a shot of the hand making a mushy mess of everything, then pull back and get a shot that captures the whole scene.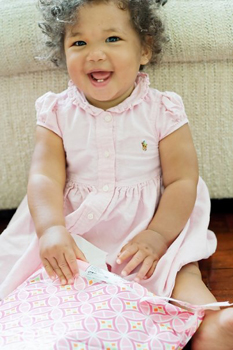 #4: Opening the Presents
Depending on the age of your child, this moment either moves along at a snail's pace or is over in the blink of an eye - either way, the key to an awesome shot is to be prepared. If your guest of honor is of the tiny variety, set her in a well-lit space with lots of room, then pick the present you think will likely get her most excited and/or has the best-looking wrapping paper. Again, it's important to get down to her level. For little ones, wait until they give you the "This is so fun!" face. If you're surprising your older child with a larger present (let's say you're wheeling in a new bike or unveiling a redecorated room), it's all about the expression on his face, so pull back (don't be afraid to ask people to move) and position yourself to capture those very first moments of genuine surprise.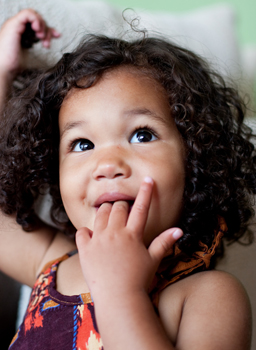 #5: The Portrait
Get a special portrait in early, when the light of day is still soft and your child (hopefully) isn't yet overstimulated. This is the "beauty shot" of the day, so make sure the star has her birthday dress or outfit of choice on, hair is in place, and face is free of food. Take her somewhere less distracting with a simple background and plenty of bright warm light (do not use the flash). Face her towards the light source if you're inside (think a big, bright window), pull out your best Elmo (or other age-appropriate voice/character/sound) impression to encourage eye contact with the camera, and snap away!
#6: The Ritual
See even more tips from the Momtographers on how to get the best shots of your little beauties!
Whether it's waking your little prince or princess up with a cupcake and a crown or some other family tradition, it's important to capture that moment. It might mean enlisting the help of your husband, neighbor, or an older sibling - anyone handy with a camera. Think about how the moment will play out ahead of time so you or the camera person can be positioned to best capture the key moment.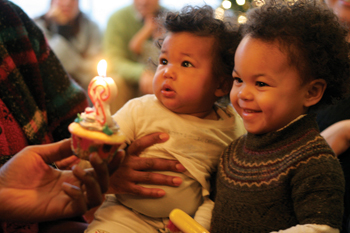 #7: Sibling Perspective
Part of the major significance of a birthday is documenting the child's place in his family, and nothing does the job better than a picture with his siblings. As every mom knows, trying to get a picture with siblings where everyone is smiling perfectly and looking at the camera at the same time can be a nearly impossible task. So be OK with imperfection. Stay relaxed (no yelling!) - if the scene ends up in a big tickle fight, shoot that; if one is laughing, one is crying, and the other is smiling a saintly smile, shoot that. Remember why you are taking the shot, and a little sibling chaos will suddenly seem like a bonus for an interesting picture.
#8: The Details
The story is in the details. You may have spent countless hours filling up water balloons, hand-crafting gift bags, stringing popcorn, or rolling fondant - and then in seconds it's all destroyed in the beautiful chaos that is a child's birthday party. Before that happens, take a moment to get a nice shot of each detail. Like the cake, these things don't move, so get in close, pull out, play with angles, and take a few minutes to get it right - you'll be glad you did!