As a way to combat the cold winter months and psych your kids (and yourself) up for summer that currently seems just out of reach, we're bringing camp home with an array of slightly modified camp activities that can easily be implemented indoors. Our official guide starts in the February issue, but as promised we've got many more ideas, so here they are...
Arts & Crafts
A&C is one of the quintessential camp activities: Who doesn't love a friendly Pet Rock, or a well intentioned yet unevenly knit scarf? The best part about arts and crafts is that it can be done any time of year, in any type of weather.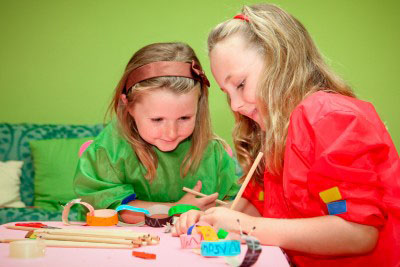 Bringing Outside In
Sure, it's disgusting and cold outside, but that's no reason to completely disregard Mother Nature's gifts. Becky Newman, summer camp co-director and program manager at EarthPlace in Westport, CT, suggests picking a non-snowy day to scour your backyard (or the local park) for pine needles, dry sticks, rocks, and any other goodies your little ones can spot. Once you've collected your natural loot you can use them for a variety of art projects: Paint them, cover them with glitter, or simply glue them together. They can be abstract sculptures or paperweights or even trash tomorrow--the what is less important than the fun your child will have creating.
Picture This
Remember how adorable you thought it was when your child made you a picture frame at A&C last summer, complete with a photo of the two of you? Why not make a far-away relative's day by creating similar frames for your family? Use construction paper or popsicle sticks for the base, and make sure to crop your photo (either digitally or with old-fashioned scissors) so that it fits in the frame properly.
Friends Forever
Nothing says "BFF" like a friendship bracelet. Todd Rothman, director of Deerkill Day Camp in Rockland County, NY points out that while this activity can be done year round, it generally isn't; lanyards and friendship bracelets are traditionally associated with camp. There are hundreds of patters and stitches out there, so use this as an opportunity for your kids to show off: Ask them to teach you how to do their favorite stitch they learned last summer, and soon you'll be wearing matching bracelets!
Rainbow Explosion
Warning: this last A&C activity is not for the faint of heart. You'll need time, space, buckets, dye, and a lot of parental supervision unless you feel like turning your entire living room multi-colored...can you guess what activity this is? That's right: tie-dye! Rothman call tie-dying "one of our traditional arts and crafts events of the summer," explaining its appeal lies in the fact that "you can do it every day and each time you do it, it will come out differently." Is that element of surprise and delight worth the time and energy it will take to bring tie-dying into your home? Only you can decide. If you do choose to seize the rainbow, make sure you use buckets you don't mind staining, put newspaper down over the area where you will be dying, and be sure to check that the whites your child chooses to dye are articles of clothing that don't need to stay white-the crisp button down Grandma bought as a birthday gift probably shouldn't leave the closet for this activity. Use rubber bands to twist portions of the clothing into chunks, then dunk in the dye buckets and hope for the best! As Rothman says, it will turn out differently each time!
Sports
Just because you can't go outside, there's no reason to avoid physical activities. If you have a large basement in your house or a communal fitness room or playroom in your apartment building you can utilize those spaces for indoor active games. If not, these suggestions can still work in small spaces--just be sure to move anything breakable into another room for the duration of the game.

Balloon Ball
Jamie Sirkin, owner and director of Summer Trails Camp in Westchester, NY, suggests Blind Volleyball for instant fun on a snowy day. Put a sheet up to divide the space in two, and have kids split up evenly on either side. The players sit down and bounce a balloon (not a ball!) back and forth without being able to see what the opposing team will do next. This game is especially great because it's just as much fun with only two participants, so there's no need to invite the whole neighborhood over!
Crab Soccer
Another favorite, says Sirkin, is Crab Soccer. It's exactly what it sounds like--kids play traditional soccer (with either a soccer ball or a softer alternative) but everyone must walk around like a crab. We guarantee your kids know what "crab walk" is, even if you don't!
Gaga
A low-impact sport that can be played indoors or outside, Gaga is a fun way to keep a group of children occupied with seemingly zero effort. Rothman praises Gaga as an activity that poses "very little risk in terms of damage and injuries," and points out that it's a nice chance for your child to take the lead and teach home friends something they learned during the past summer.
Music
Music is the backbone of summer camp memories. Cabin songs, camp songs, bonfire sing-a-longs...the list goes on and on. Simply hum the tune of your child's camp anthem and you're likely to hear a rousing rendition. If you're looking for some more complex musical camp activities though, try these out.
Kazoo Orchestra
Lisa Mayer, director of The Clubhouse Camp in NYC, encourages kids and parents to aim to "do one really small thing, but do it for real," when bringing summer camp activities into the home. In this case, the small thing includes a small instrument: Mayer recommends buying a kazoo from a novelty store, gifting it to your child, and then buying a few more for yourself and your child's friends. They shouldn't cost more than a couple of dollars, and once you have doled out the instruments you are ready to become your very own orchestra. Assign one person the harmony, one person the melody, and one person the beat. "You can play Lady Gaga or you can play You Are My Sunshine," says Mayer. "You'd be surprised, kids can really do stuff!"
Karaoke
There are millions of ways to perform karaoke in your home, and so many devices you can use to make it happen: an old tape deck, a boom box, iTunes, video games...the list seems endless. If you're feeling particularly old school just encourage your kids to choose songs they know by heart and sing them loudly. Sure, this might fall more into the "sign-a-long" category than the "karaoke" category, but throw in some costume pieces (feather boas, fedoras, and tutus are a good start) and we promise no one will complain.

And there you have it. Congratulations on successfully running a "summer camp" in the middle of winter in your very own living room. If you're looking for even more activities, remember who the real camp experts are: your kids. Make sure you let the know you value their opinions and ideas, and before you know it they'll be back at real summer camp, learning new things and brainstorming more ideas to bring home for next winter.