Like most elementary school children these days, the kids at Claremont Prep School don't like to eat their vegetables. But every day at lunch, that's exactly what they do. They eat a full serving of fruits and vegetables, whether they like it or not. The full-time staff nutritionist, Colleen Kelley, sits down with them each day to facilitate this process. She has established a "No Thank You Bite" activity as part of the school's extensive nutrition program — to get the kids to try different vegetables. They must take at least one bite and if they don't like it, they're not required to finish it.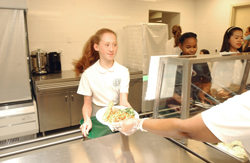 "OK, kids, let's do our vegetable. Take a bite," Kelley instructs a table of four first-graders.
   "No, it's poison." The boy in the corner sticks out his tongue at her.
   "Here's my vegetable!" the little girl next to him shrieks and holds up a piece of cheese.
   "That's not a vegetable!" Kelley places her hand on her hip and gives her a disappointing frown, then quickly laughs as she supervises each child to take a small bite of flower-shaped parsnips with pepper sprinkled on top.
   One little boy with red hair and freckles only takes a lick as he wrinkles his nose and closes his eyes. "Ewww, it's horrible!," he yells as he dramatically clutches his throat and quickly gulps down a glass of water. There is, of course, no soda allowed in the lunchroom. 
   The downtown Claremont Prep School calls their unique nutrition program the GO, SLOW, WHOA Program, a motto designed by the Center for Science & Public Interest, and adjusted by Kelley to fit the school's interests. In an effort to teach students how to identify foods that should be eaten daily and ones they should eat only in moderation, food is placed into easy-to-read color categories. GO foods are healthy foods that should be eaten every day and are designated with a green traffic light. SLOW, yellow light foods, should only be eaten a few times a week, like pasta or red meat. And WHOA, red light foods, should be rarely consumed, like sweets or pizza. "The traffic lights give a visual connection between the foods that are good for them and foods that are not," Kelley explains. Kids are allowed to only pass through the lunch line one time, with the exception of unlimited fruits and vegetables, and they must try at least one vegetable, as part of the unique No Thank You Bite activity. "I noticed when I came here the kids had a pretty specific diet. They all ate things like chicken nuggets, pasta, and pizza, and that was it. They weren't trying a lot of foods and couldn't really expand their palate, and so we developed No Thank You Bite, and it just takes the pressure off. If you tell a child they have to eat something, for them that's the end of the world."
   Some kids are more challenging than others, and if coaxing them to take a bite is unsuccessful, Kelley will try to get them to take a lick, or to hold it in their mouth for a few seconds. She will then proceed to work with them every day, and little by little get them to eat a bite or a few bites, explaining that it can take up to 15 times to familiarize a child with a food so that they might eat it voluntarily, and possibly even like it. "All I want is for them to stimulate their taste buds so eventually they'll accept the food. Yesterday, we had a child who wasn't eating at all and he finally ate a pea, which was huge. He needs to eat more, but that's a huge step for us."
   Making good eating fun, another goal of the program, includes having students guess secretly disguised foods at lunch and giving a prize to the student who guesses the most correctly. The prize might include a cooking session with one of the three professional chefs, who all graduated from the French Culinary Institute. Head chef, Celeste Chum, who has worked in high-end restaurants for 10 years, says she tries to apply the same techniques from fancy restaurants to the school meals — only instead of butter or cream, she uses vegetable stock and skim milk. She also attempts to make the food attractive by cutting vegetables into fun shapes, or using strategies such as mashing cauliflower to appear like mashed potatoes.
   Claremont headmaster, Irwin Shlachter, feels that implementing this program is a huge step for American's education system as well. He is very enthusiastic and supportive of the program, stressing that one of Claremont's primary goals is to teach "the whole child", not just the textbook lessons of reading, writing and arithmetic. "Nutrition is truly a piece of education, and it has to be part of their day. You're training the next generation of adults to eat right."  One of the many benefits of the program, he explains, is its accommodation for busy families; parents are invited to breakfast each morning and there is a parent-child lunch time, called "the lunch rap", scheduled several times a year.
   After only a year since the opening of Claremont Prep and the implementation of the program, the positive effects have already become visibly apparent. Kelley tells the story of one fourth-grade boy who drank coffee and ate white bread for breakfast every morning; his family dinner usually consisted of greasy pizza or chicken wings. He had several behavioral problems, including lack of concentration in class, and was overweight for his age. He refused to eat the healthy lunch options at school. It took four to five months, with Kelley working with him one-on-one every day, to make some progress. Eventually, the hard work paid off and he ended up losing 10 pounds, and his attention in class completely turned around. The staff realized that he was an extremely smart child, but his short attention span had always been holding him back academically. "The change was so dramatic," Kelley remembers.
   Both Kelley and Shlachter note the growing problem of obesity in America, and feel Claremont's nutrition program is one of the many steps schools should be taking to combat this. Shlachter adds that it's shocking to live in a city like New York, where most people are better educated and aware, and to still have this malady. But he points to the ubiquitous fast food chains as evidence malnutrition is still very much an issue in the city.
   Kelley admits that Claremont students, with their parents paying an annual tuition of $26,500, do not necessarily give an accurate representation of the average K-8, public school student in the U.S. This type of nutrition program can be highly cost invasive and unrealistic, if not impossible for a public school to consider. Claremont's founder, Mike Koffler, spent $40 million in start-up capital for the school, $1 million of which went to carving out space for the cafeteria, and $2 million on developing curriculum. Nevertheless, Kelley feels strongly about the social importance of her program.
   "I think it needs to be in a public school. These kids are obviously privileged kids, but the problems are the same. I think it needs to be in schools around the board. It actually affects their education, and until people can finally accept that, they're not going to fund it.
 Healthy Food Rules in Claremont's Lunchroom:
1.  Fresh, crunchy and chewy
2.  Not too sugary sweet
3.  Not too salty
4.  Not too greasy